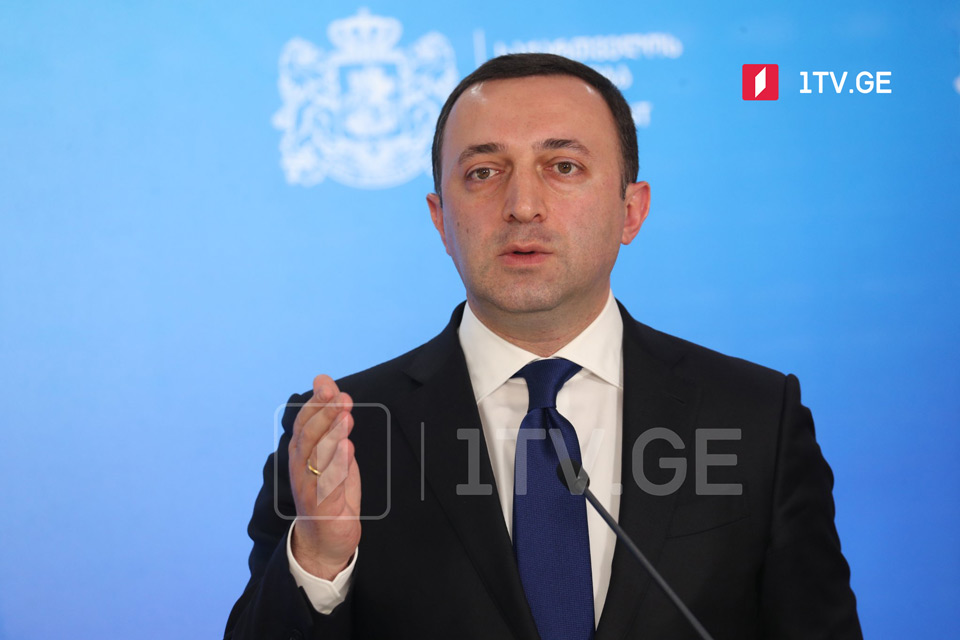 Garibashvili says claiming PM be part of farce coached by retired politician offends both him and state
"When someone asserts that Prime Minister is a part of farce lead by a person who eventually quit politics last January, is insulting not only for me but the state as well," said Georgian Prime Minister Irakli Garibashvili in an open letter. The PM finds it offensive when opponents speak about deoligarchization.
"Under the Constitution and the practice of parliamentary republics, the Prime Minister is responsible for performing his duties without exaggerating his power," Garibashvili explained.
Prime Minister said the ruling Georgian Dream (GD) party has a special attitude towards Bidzina Ivanishvili (former GD Chair), who founded the party and brought democratic transformation to the country. He left the right values and game rules after quitting politics. The values are love for the motherland and respect for the law.  "The false accusation of the oligarchic rule is entirely incompatible with game rules left by Bidzina Ivanishvili," PM said.
He added that persons holding key positions in the government or the parliamentary majority even do not know the former GD Chair personally.  "The allegation that Bidzina Ivanishvili rules and controls the government and parliament is a total farce and absurd," Garibashvili claimed.
In his remarks, the PM stressed that even following their resignation from the ruling party, his predecessors, Giorgi Gakharia and Giorgi Kvirikashvili, also denied interference by Bidzina Ivanishvili in their affairs.
"When such circumstances exist, there is only a theoretical possibility that Bidzina Ivanishvili might have been involved in making any particular key decisions. There can only be two such key decisions in today's situation: not imposing sanctions on Russia and not involving the country in the war," Garibashvili said.