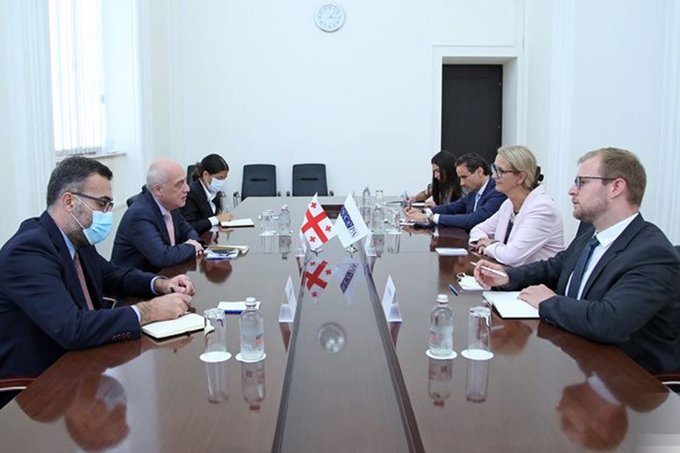 Domestic, regional challenges in focus during OSCE PA visit to Georgia
Recently appointed OSCE PA Special Representative on South Caucasus Kari Henriksen (Norway) and Secretary General Roberto Montella have just completed a visit to Georgia, where they held a series of meetings with government authorities, leaders of political parties and representatives of the international community.
The visit on 18-19 September focused on domestic and regional challenges in Georgia and the South Caucasus.
"The OSCE PA has been closely following developments in Georgia for over 20 years now, recognizing its steady engagement in pursuing efforts aimed at building a stable and sustainable democratic system." Henriksen further underscored the importance of political stability, dialogue and compromise, which are also vital for conflict resolution, she said.
In a number of meetings held with representatives of European Georgia, United National Movement and Georgian Dream, issues such as the pre-electoral environment, the conduct of the campaign and polarized dialogue in the public sphere were raised.
"Concerning the local elections, many interlocutors noted that despite the harsh rhetoric surrounding the campaign, the overall atmosphere has remained calm, and I sincerely encourage all stakeholders to further engage constructively in the time following the elections, not just on the local, but also the national level," Henriksen said. "Most importantly, all political stakeholders must refrain from incitement or carrying out any political violence."
OSCE PA Special Representative on #SouthCaucasus Kari Henriksen (Norway) and Secretary General Roberto Montella have just completed a visit to #Georgia. Click here for the press release ▶️ https://t.co/7dyZapfpIn @MFAgovge @parliament_ge @robertomontella @karhenr pic.twitter.com/0r2nW0wLcL

— OSCE PA (@oscepa) September 20, 2021