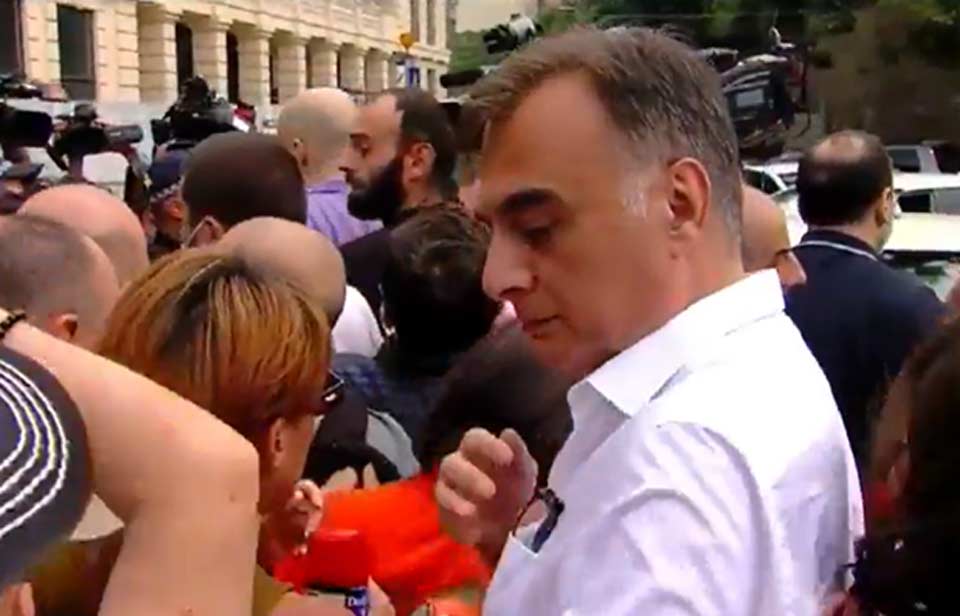 Protesters, police clash at GD office 
A group of people and the police clashed at the Georgian Dream (GD) office on Sunday.
Protesters are rallying at the ruling team office to demand the government's resignation following the death of TV Pirveli cameraman Lekso Lashkarava.
The tension mounted as protesters tried to enter the office but the police did not let them.
The opposition members, United National Movement Chair Nika Melia, Elene Khoshtaria, and Mamuka Khazaradze are also attending the rally.
The ruling team is holding a meeting. The police are mobilized on the spot.
TV Pirveli cameraman Lekso Lashkarava died earlier today after being assaulted by far-right activists on July 5. He was beaten in the Shame Movement office, stormed by anti-Tbilisi Pride members.
Interior Ministry launched a probe into the case under Article 115 of the Criminal Code of Georgia, involving incitement to suicide.
The exact reason behind death is unknown so far. Relevant forensic medical examination has already been appointed, the police added.
Earlier today, the opposition Lelo and Free Democrats parties demanded the resignation of the Georgian Prime Minister and Interior Minister as "the government failed to prevent violence."