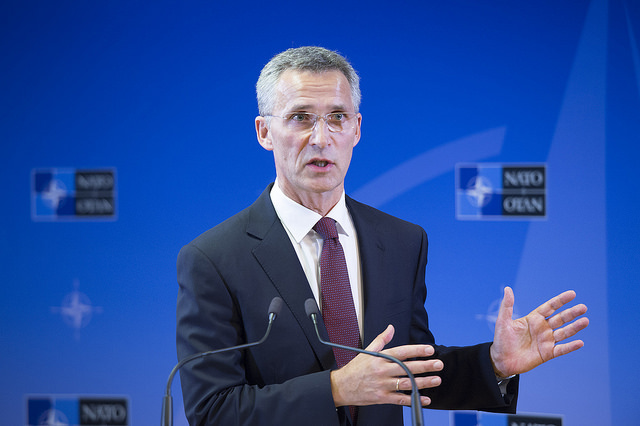 AP Interview: NATO chief plays balancing act with Russia
NATO Secretary General Jens Stoltenberg said Tuesday he wants a more constructive relationship with Russia — even as the Western alliance is taking measures to respond to Moscow's increasing military assertiveness.
It's a delicate balancing act. Stoltenberg met Tuesday with Russian Foreign Minister Sergey Lavrov, and neither side showed signs of backing down from their firm, wary military posture. Such meetings are rare, as NATO-Russia contacts have waned since the Ukraine conflict broke out in 2014.
Speaking to The Associated Press shortly before the meeting on the sidelines of the U.N. General Assembly, Stoltenberg expressed concern about Russia's military interference in Ukraine and Georgia, support for Syria's Bashar Assad, and the buildup of Russia's naval forces in the eastern Mediterranean. "When we have serious disagreements, when we see increased tensions, when we see more military presence close to our borders, it's actually even more important to have dialogue," Stoltenberg said in an interview.
Russia is deeply bitter about NATO's expansion since the collapse of the Soviet Union, and sees NATO activity in eastern Europe as unwarranted interference in Russia's geographical backyard.
Improving communication between NATO and Russia could help defuse tensions, Stoltenberg said, as long as conflicts like that in Ukraine remain unresolved. "At least to manage a difficult relationship, to avoid miscalculations, misunderstandings that can trigger really serious incidents or accidents and make sure that if they happen, make sure that they don't spiral out of control."
Asked about Ukrainian President Petro Poroshenko's recent comment that his country's military aims to meet the criteria for NATO membership by 2020, Stoltenberg indicated that NATO wouldn't be seeking Russia's permission for Kiev to join the alliance. "It's for Ukraine to decide its own path, whether they want to join NATO or not," he said. "At the end of the day it will be 29 allies and Ukraine that decides whether Ukraine is ready to meet the standards of joining NATO."
Stoltenberg said NATO wants to avoid a return to Cold War days. But he noted that the alliance is deploying battle groups to its eastern members for the first time, stepping up its presence in the eastern Mediterranean and will soon hold the biggest exercise in the Norwegian Sea in a generation — Trident Juncture — involving land, air and naval forces.
Stoltenberg said he told Lavrov of NATO's concerns about Russian aggressiveness abroad, and that they discussed Trident Juncture and Russia's recent Vostok military exercises — their biggest in recent history.
Stoltenberg announced no specific progress after Tuesday's meeting but said they agreed to continue contacts. Lavrov looked less upbeat, stalking away and refusing to comment on how it went. The Russian Foreign Ministry said they discussed the "current state of political dialogue, and prospects for Russia-NATO relations."
The meeting may have been clouded by Russian anger over Norway's arrest last week of a Russian parliamentary aide accused of spying. Stoltenberg is a former Norwegian minister. Lavrov assailed the espionage accusations as "propaganda" and huffed ironically about "Norwegian hospitality."