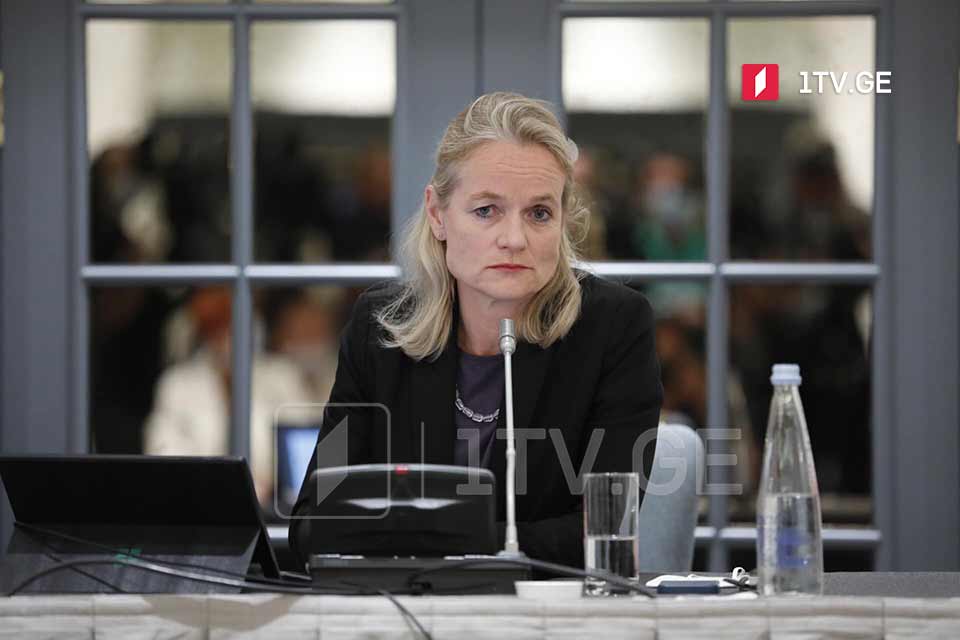 Annulling April 19 Agreement makes Georgia far off from EU, MEP Cramon says
After Georgian Dream's decision to annul the April 19 Agreement, Georgia is much further away from the EU than it was 3 months ago, said European Parliament member Viola Van Cramon at a press conference in the Georgian capital Tbilisi on Friday.
"Georgian Dream made unexpected and, in my opinion, harmful decision for Georgian interests and withdrew from the agreement. This is in the end why I decided to cancel my meetings at the Georgian Parliament," MEP Cramon underscored.
Viola Van Cramon believes the April 19th agreement was and is a fundament for the European Parliament's democracy support activities with the Georgian Parliament.
"This is not the first time Georgian Dream breaks its promise. "Annulling" the agreement irreparably breaches trust and renders Georgian Dream unreliable.  The excuses for "annulling" the agreement are unpersuasive and unserious. Georgian dream did not fulfill its obligations – appointment of judges without the "ambitious judicial reform" is a good demonstration of that. This regrettable decision did not benefit Georgia, its people, its international friends. Georgian Dream's decision benefited the Kremlin. It is clear, that after trust is breached, we cannot go back to "business as usual". The EU will need to reconsider its relations with the Georgian Government," she stressed.
??Not the 1st time @GeorgianDream41 breaks its promise. "Annulling" the agreement irreparably breaches trust & renders GD unreliable. #UNM's unconstructive actions & refusal to sign gave GD convenient pretext. People of #Georgia deserve better!
STATEMENT: https://t.co/MKXZy5iz4V pic.twitter.com/q3XwsGJ6st

— Viola von Cramon (@ViolavonCramon) July 30, 2021
MEP Cramon thinks "United National Movement's very unconstructive actions and refusal to sign this agreement gave Georgian Dream a convenient pretext."
"The people of Georgia deserve better, they deserve politicians who put the country's interests above everything else. Hereby, I commend all opposition parties that stay committed to the agreement and to the obligations they have taken. Lastly, in this context, the upcoming local elections have become even more significant. The EU stands with the People of Georgia in their struggle for a just and democratic state. This is why it is important for every Georgian to exercise their constitutional rights and vote in the local elections. The EU will do everything possible to makes sure that our observers are on the ground and contribute to the transparent elections," she noted.
European Parliament member hopes Georgian Dream will reconsider its decision and return to  April 19 Agreement.
"This is our first demand.  At the same time, I call UNM to finally sign the agreement because this will also help us. We need all parties on board for the next steps. As you said, we invested a lot to achieve this for the first time in Georgia a multiparty agreement," she added.
Earlier this week, Irakli Kobakhidze announced the EU-brokered April 19 Agreement as annulled, saying it completed its mission and exhausted itself 100 days after signing as the majority of opposition figures having abstained from joining.
True. Unfortunately, the same is true for the biggest opposition party #UNM who hasn't even started to sign the joint April 19th agreement. They made it easy for #GeorgianDream to annul their signature. Even more true: The people of #Georgia will suffer the most of the decisions. https://t.co/MVaNjGp5mx

— Viola von Cramon (@ViolavonCramon) July 29, 2021