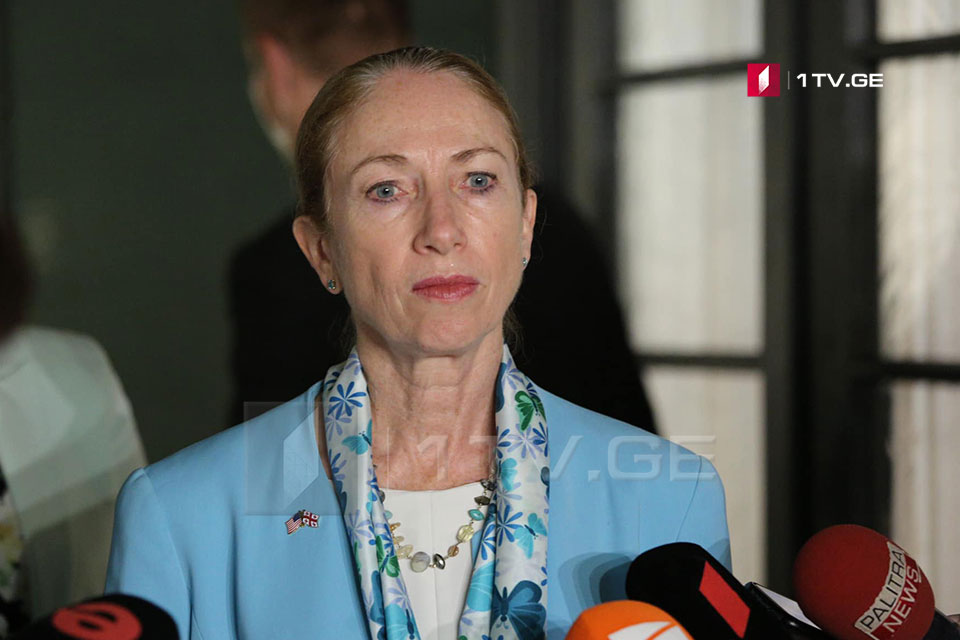 Ambassador Degnan: We would like to see ruling party, opposition working together more in Parliament
U.S. ambassador to Georgia Kelly Degnan Thursday said the United States follows what's going on in Georgia "very closely," stressing Georgia is an "important partner" for the United States.
Kelly Degnan noted that "there are a lot of challenges facing the country and the best place to address those is in Parliament with the ruling party and the opposition working together, not fighting right now with what's going on in the region."
"We are glad to see the political leaders working in Parliament because that is where this kind of progress and change needs to happen. We would like to see more activity in Parliament; we would like to see more implementation of the laws and the strategies that are adopted. We would like to see the ruling party and the opposition parties working together more in Parliament on the issues that are most important to the Georgian people, which are things like the economy, education, public health, roads, and water," she stated.
U.S. ambassador believes "it's the time for Georgia's political leaders to come together for all of Georgia to stand united, to stop attacking each other, and to start working together for the future of this country."
She continued: "This is an important message for the Georgian people, but it also sends a very important message to Russia and to others who are out to divide Georgia, trying to create confusion and tear this country apart from within. So, my message to the political leaders in Georgia is to stand together and work together on the issues that are most important to the people of Georgia."
Asked about Georgia in the face of Russia's war with Ukraine, Ambassador Degnan said: "Georgia is an important partner of the United States. We are taking very seriously Georgia's vulnerability while Russia is brutally attacking Ukraine."
"And we have long stood beside Georgia in support of Georgian sovereignty and territorial integrity, and we will continue to do so. If you think about the 30 years we are commemorating right now of our diplomatic relations, we have for 30 years been working to help the Georgian Defense Forces to help Georgia's security services become stronger in order to defend Georgia's borders. That's the Coast Guard, that's the border police, that's the Georgian Defense Forces, that's the National Guard. All of these are much stronger, much more capable not only having worked with the United States on security cooperation but serving together with the United States and NATO allies in Afghanistan and Iraq. So, I would say that the United States' support for Georgia remains very strong and my leaders have made that very clear," she asserted,
As to the question about exchanges of accusations between some people in Ukraine and some people here in Georgia, Kelly Degnan noted: "I have not heard any political leaders try to drag Georgia into this war. In fact, I have heard people be very careful and very sensitive to the fact that Georgia has Russian forces already on your territory."
"Georgia has already experienced the painful experience of having Russian forces attack your civilians and occupy your territory. So, I think it would really be useful right now when everybody needs to stand together for everybody to stop attacking each other. This kind of fighting only benefits Russia. It is tearing Georgia apart to have these kinds of attacks. It's disinformation that only makes Russia happy and only serves Russian purposes. So, much more important would be for Ukraine, for Georgia to stand together against this threat of a brutal neighbor, Russia, that is trying to take your sovereignty and territorial integrity away from you," she underscored.
Ambassador Degnan's Remarks to Media at the Opening of the Ozugeti American Shelf https://t.co/xHDh84POWp

— U.S. Embassy Tbilisi (@usingeo) May 5, 2022