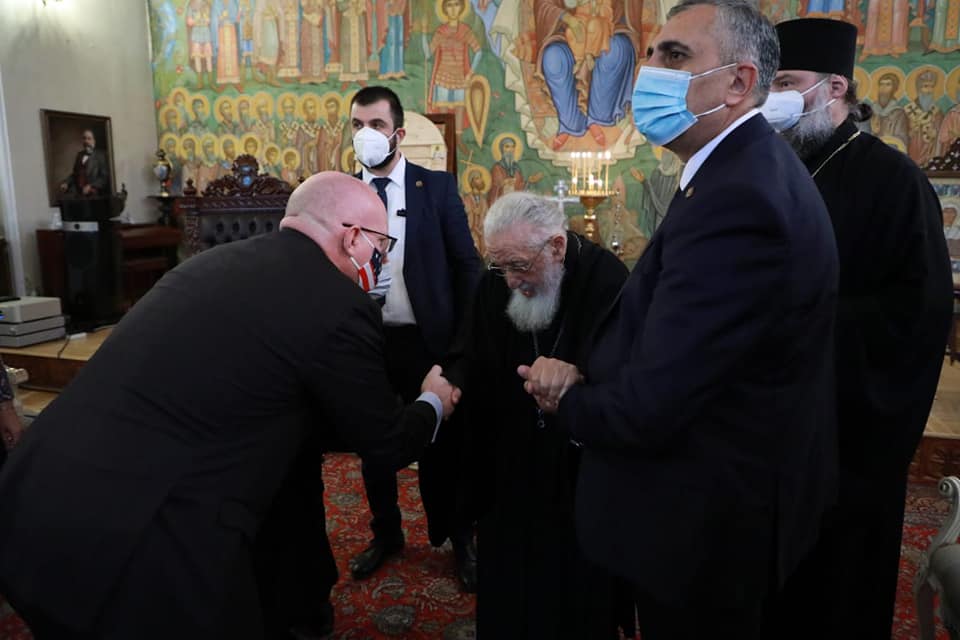 Acting Assistant US Secretary of State to extend regards of US President, Secretary of State, to Patriarch
Acting Assistant US Secretary of State for European and Eurasian Affairs, Philip Reeker, extended regards of Antony Blinken, United States Secretary of State and Joe Biden, US President, to the Georgian Patriarch, His Holiness and Beatitude, Ilia II.
Acting Assistant Secretary Reeker met His Holiness Ilia II to discuss the close collaboration between the United States and Georgia in preserving Georgia's unique cultural and religious heritage. Reeker said during the meeting with the Georgian Patriarch, he talked about what the US was doing to try to preserve some of the Georgian sites and monuments.
"The Georgian Orthodox Church is playing an important role in the Georgian society in supporting the Georgian people and the country's focus on Euro-Atlantic future and integration. The United States is very proud of this," Philip Reeker stated.
Ilia II and Philip Reeker discussed ongoing efforts to preserve and protect Georgia's iconic Jvari Monastery – an invaluable, millennium-and-a-half Old Testament to Georgia's history, culture, and faith.
Reeker visited Jvari Monastery near Mtskheta town earlier on Friday to inspect the progress. He met with partners from the Chubinashvili Center who are implementing the $600,000 project to preserve the monastery's façade and other features in line with international best practice.
According to Reeker, it was a great honor for him to visit Jvari. He said he knew much about the monastery. "It is just an incredible site, not only holy site, historic site, so important in the Orthodox tradition," he claimed.
The United States is preserving the church through the Ambassadors Fund for Cultural Preservation. The United States has funded approximately 21 projects worth nearly $2 million to restore, preserve, and protect Georgia's unique cultural heritage over the last 20 years. Approximately $1 million of these projects have been devoted to preserving and protecting unique religious sites.
These efforts stem from the strong partnership between Georgia and the United States and help build stronger ties of understanding between our two countries. US Ambassador to Georgia Kelly Degnan and Ambassador Adam Sterling, the Foreign Policy Advisor for the U.S. European Command also participated in the meeting.