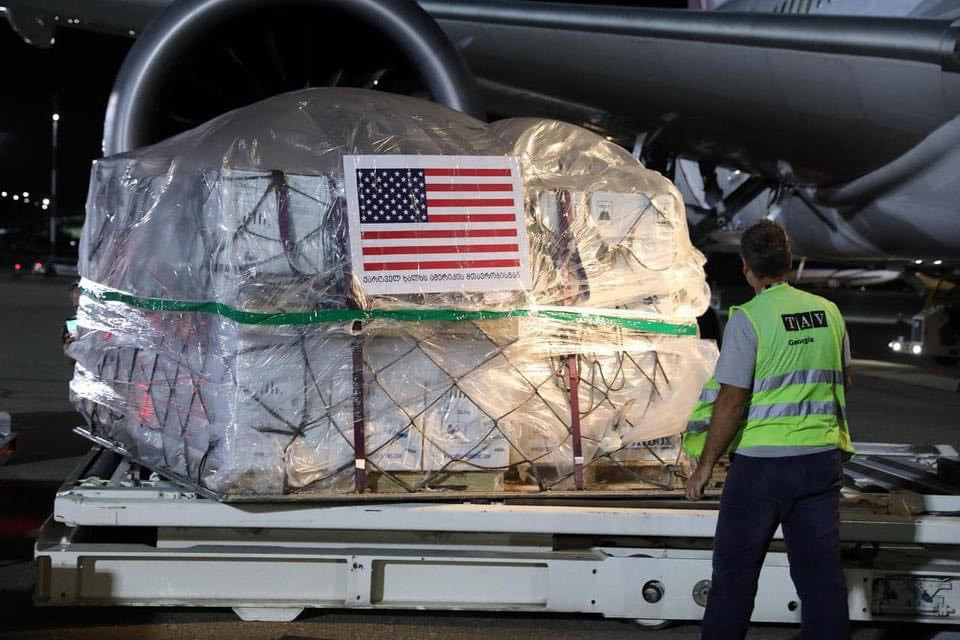 US-gifted half a million Pfizer vaccine shots arrive in Tbilisi
The US gift, half a million Pfizer-BioNTech COVID-19 vaccine shots arrived in Tbilisi, Georgia, late last night.
Georgian Prime Minister Irakli Garibashvili, US Ambassador to Georgia Kelly Degnan and Georgian Healthcare Minister Ekaterine Tikaradze attended the special event on this occasion at the Tbilisi International Airport.
According to the US Embassy in Georgia, the vaccines are a gift from the United States Government to the people of Georgia, a part of the Biden-Harris Administration's global vaccine sharing framework.
On behalf of the Georgian people, I want to express our deep gratitude to @POTUS & the US government, our main strategic partner, for the generous donation of Pfizer vaccines to 🇬🇪. We are all in the fight against the pandemic together. pic.twitter.com/I07nO4PSYm

— Irakli Garibashvili (@GharibashviliGe) July 23, 2021
"We are very pleased to be able to present these life-saving vaccines as a gift to the people of Georgia, as part of our strategic partnership," said Ambassador Kelly Degnan. "The United States has supported efforts to protect the health and safety of the people of Georgia since the very beginning of the pandemic. Now we are able to provide the one thing that can end this global crisis – a safe and effective vaccine."
United States gifts 500,000 doses of Pfizer COVID-19 vaccine to Georgia.https://t.co/nxDUCzqLSg pic.twitter.com/4qlRZK4Mrm

— U.S. Embassy Tbilisi (@usingeo) July 23, 2021
The 500,000 doses of Pfizer vaccine are in addition to the $27 million in total assistance that the U.S. government is providing to Georgia to mitigate the impact of the pandemic.
PM Garibashvili announced the delivery of US-gifted Pfizer vaccines during the news briefing on July 2.
Immensely grateful to our main strategic partner – 🇺🇸 for those 500 000 doses of #Pfizer Vaccine that have just arrived in 🇬🇪's capital. Yet another bold expression support and excellent cooperation, which is crucial in this difficult time! @SecBlinken

— David Zalkaliani (@DZalkaliani) July 23, 2021