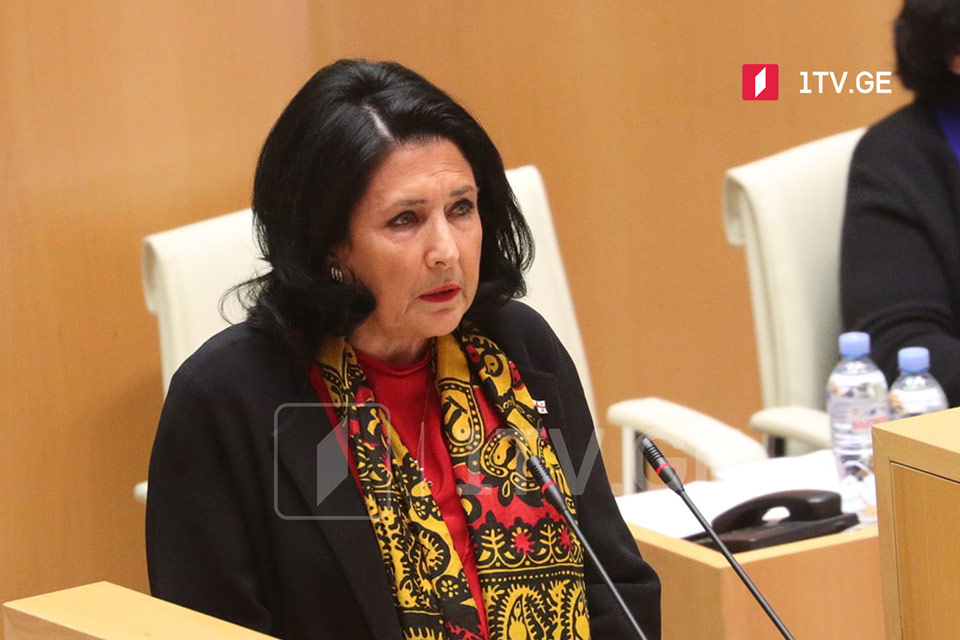 Georgian President on occupation: Negotiations not to mean concession
We need a fresh approach to get closer to the Abkhazian and Ossetian people residing across the occupied territories, President Salome Zourabichvili said in a speech delivered at the first sitting of the parliament of 10th Convocation.
"Georgia will not accept occupation, but constant accenting the occupation is not enough if we do not seek ways to reduce physical and moral distance with Abkhazians and Ossetians to restore the trust," Salome Zourabichvili said.
According to President, Georgia must not reject dialog and diplomacy channels to solve frozen territorial conflicts.
"I agree that only parallel diplomacy with Russia is not justified, as it lacks the openness, transparency, and accountability that accompany formal negotiations. But we should remember that dialog does not mean recognition of anything, and negotiations do not mean concession while renouncing diplomacy means missing all tools and mechanisms," President claimed.
President said that support of international partners is needed for Georgia to return its historical role as being the 'unifier engine in the Caucasus'.
"We could think of the idea to establish the Caucasus Peace Platform that would bring together the Caucasus countries, external actors, and international organizations that would contribute to the implementation of joint infrastructure, economic or cultural projects. These would strengthen the region's potential to perform the role of transport, communication, and energy hub," President said.
President of Georgia Salome Zourabichvili opened the first sitting of the Georgian Parliament of the 10th Convocation this afternoon.