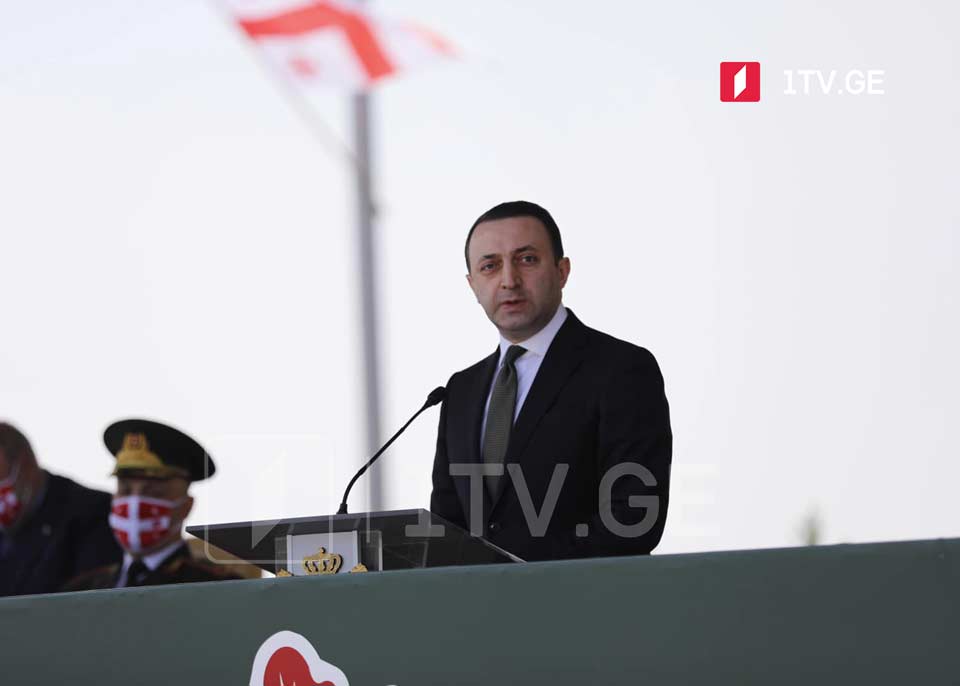 PM Garibashvili says Georgian army to be sovereignty and freedom guarantor
"The Georgian army is one of the main guarantors of our country's sovereignty and freedom, the main symbol of our statehood," said the Prime Minister of Georgia Irakli Garibashvili at the event dedicated to the 30th anniversary of the Georgian Defence Forces.
He paid tribute to the heroes who fell for sovereignty, freedom and global peace, the fighters who sacrificed themselves for Georgia.
According to the Prime Minister, today symbolizes the patriotism and constant readiness of the Georgian people to protect the country's independence, people's freedom, sovereignty and territorial integrity.
PM Garibashvili emphasized it has been a great honour for him to serve as Defence Minister and promised the Georgian army that he would continue strengthening the defence forces. He said he would continue introducing modern NATO standards, modernizing armaments and ensuring decent social conditions for the military and their families as PM.
"Over the past 30 years, the Defence Forces have developed into a modern, motivated, combative and NATO-compatible force despite the occupation and challenges, through experience, hard work and dedication, training and close international cooperation. Today, it is the largest public trusted institution in the country," Irakli Garibashvili said.
The Head of the government noted the Georgian soldiers in the NATO-led mission in Afghanistan showed the Georgian military spirit and established the name of a reliable and trustworthy partner all over the world.
"We will proudly leave the mission in Afghanistan and continue to ensure global peace in the existing formats," said Irakli Garibashvili.