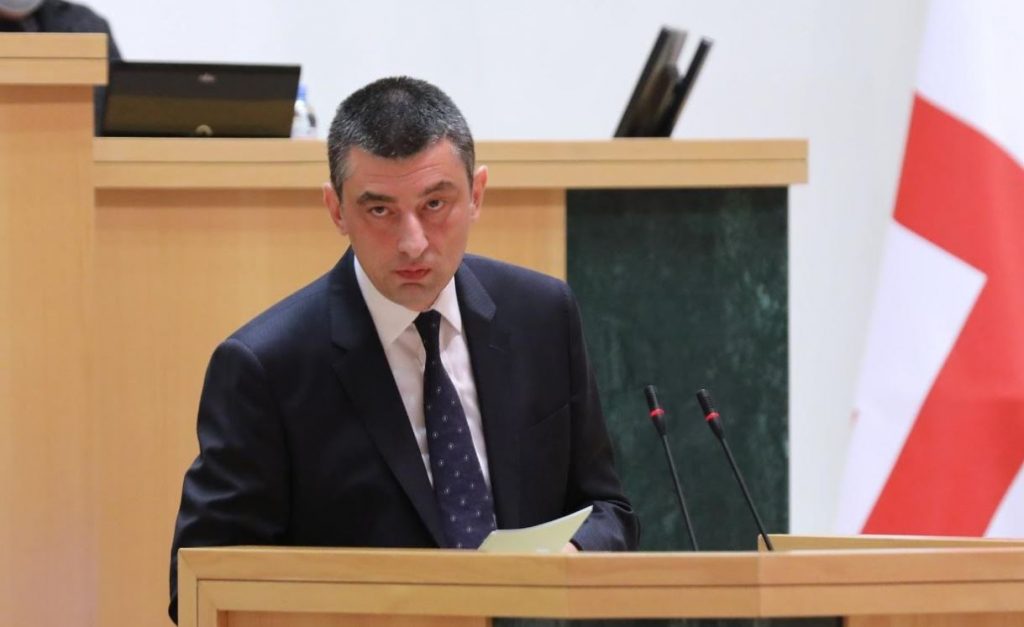 The Prime Minister addressed the Parliament in the Interpellation Format
The Prime Minister of Georgia Giorgi Gakharia has addressed the Parliament in the Interpellation Format.
"Despite all that has been said here today, we are standing here before the Parliament and our citizens, and nobody else, to testify to our high level of responsibility, and to show our respect to the law, rules of procedure, and the Parliament," Georgian Prime Minister Giorgi Gakharia said in his speech during his interpellation procedure in the Parliament.
According to the Head of Government, it marks the second time when the Parliament's podium is used for meaningless emotion-driven interjections buttressed only by political slogans, and no questions at all.
"No matter what may be said here, and even though some of our colleagues are apparently overwhelmed by emotions—you must be too tired to hold your ego, colleagues—sadly, it is the second time that the Parliament's podium is used for meaningless emotion-driven interjections buttressed only by political slogans, and no questions at all. At any rate, no questions as such are posed. Let's assume that no such question exists in nature. Interpellation is degenerating into political speculation, but that is all right," Giorgi Gakharia said.
The Prime Minister also spoke about schools, emphasizing that personal hygiene facilities remain a problem, and as classes were suspended on March 4, the Ministry of Education was instructed to deal with this issue, which is expected to be solved in every school by September.
"Let me remind you that these personal hygiene facilities were not inherited by us in good shape only to be demolished later. As for renovation in schools, I will provide you with statistics in writing. Right now, I would like to abstain from using my time on listing how many schools have been built and how many are under major renovation," the Prime Minister said.
Giorgi Gakharia responded to the opposition wondering why the Government is not implementing the program initiated by them.
"We looked into the opposition's program. Why are not we implementing your program, you ask. Firstly, I do not understand why we should be implementing the opposition's program in the first place. But I will explain why we are not implementing it. European Georgia's measures include the suspension of income taxes for 4 months, lower excise taxes. Suspension of income taxes for 4 months and then a 10% cut will cost the budget at least 1.7 billion, with excises costing 150 million, and property taxes 400 million, and so on and so forth. All the measures proposed by this party focus on lowering taxes, this way robbing the budget of 4.2 billion GEL. In addition, the same party proposes additional assistance efforts like 50% salaries, 400 GEL, and many others. To summarize, their economic plan—or their wishes, to be correct—leave the budget with a negative balance of 6.1 billion, and that means a 14% budget deficit," Giorgi Gakharia emphasized.
The Head of Government underlined that anyone knowledgeable about economics knows well that this deficit, simply put, equals the country's loss of macroeconomic and financial stability.
"Under the circumstances, it will be impossible to service ongoing expenses, let alone attracting additional donor assistance. Whenever we coordinate programs with international financial organizations, measures that cost 5 or 10 million GEL of budget funds are always weighed carefully, because the budget has it own individual parameters. The measures and wishes expressed by these gentlemen, besides threatening to ruin the country's macroeconomic stability, also make the issues of exchange rates totally unpredictable. Simply calculated, our colleagues would be unable to provide pensioners with pensions as early as May, and the budget would simply collapse in a matter of a month, with no way to pay wages. Of course, next the healthcare system would be hit and our citizens' ongoing operations. The budget would fail to deliver, and then they would lay their hands on the pension fund, a 772 million GEL pain in their neck, money secured for our citizens in their advanced age—and their fight against the pension fund is already outside the boundaries of acceptable behavior," the Head of Government emphasized.
According to the Prime Minister, all that would be followed by total collapse, and that is exactly what the opposition's economic plan is about.
"What we have here in reality is an absolutely unrealistic plan of wishes seeking to garner political points for some as the country is fighting against the pandemic and economic challenges. Georgia's current consolidated budget is 16 billion GEL, of which a little over 1/3 covers social expenses. Our colleagues tell us that we must abolish taxes, and that will cost 4,200 million. In addition, the budget will miss 1,800 million GEL in taxes, and then they, in their insolence, they lie to our citizens by promising to pay 50% of salaries they have lost—their words, not mine—and so on and so on, and that is how they make 6,100 million GEL worth of promises. Suppose that they do attract that money from donors, which is simply impossible and unimaginable, but even in that case our country's external debt will skyrocket and dash all hopes for any prospects of not only our economy but of our citizens' normal living conditions. According to all projections, Georgia's budget of 16 billion will lose 1,800 million to the crisis. And these gentlemen suggest that we make addition 4,200 million GEL worth of cuts, thus promising our citizens unrealistic assistance," Giorgi Gakharia pointed out.
According to Georgian PM, it is all about basic mathematics and simple numbers.
"Let's say they believe it is right. But, first, we must keep in mind that we are dealing with an unforeseen crisis. Anyone somewhat knowledgeable about economics will understand. It is an unforeseen crisis, and you—in the middle of this unforeseen crisis, global and extreme one at that—are telling me to cut taxes, with the effect to reflect in the economy 2 years from now, best-case scenario. It is simple mathematics. My question involves simple numbers. And the fact of the matter is that some people promise the country and citizens things they know are impossible, or they are ready to take risks that threaten the country's economy with by-month calculations that suggest unpaid pensions in May, unpaid salaries to police officers, doctors, and teachers, failure to provide for the blanket healthcare system, suspended ongoing operations in the country—all to be followed by a total collapse. And this is the economic plan endorsed by our colleagues. Every citizen knows and sees well the worth of such political promises," the Head of Government stated.
Prime Minister of Georgia spoke about the budget allocations and addressed the opposition.
"When you talk about budget allocations and say that you search for information and are not given it, I can teach you where and what information can be found. You are partially right, but when you say that, you need to agree with me on one thing, State Budget of Georgia has seen an increase in wages and salaries. For instance, policemen have an increased remuneration.

Current expenditures have been reduced in recent years from 24% to 21%. And it happened in the conditions, when salaries and wages have been increased for policemen, medical doctors, etc. Overall, our macroeconomic problem manifests itself in current expenditures. We are reducing them. When you refer to legal entities of public and private laws, they also fall under the payroll, which you cannot find information on. The number that you got wrong and cannot balance it out is in the contractual part. Let me give you a hint, this is where you should be looking for," noted the Prime Minister of Georgia.
Head of Government of Georgia also focused on the social allowances and noted that such sustainable initiative in social terms has simply never been done before in the country.
"It is basic arithmetic, the country has 800 000 self-employed people or those working in the informal sector. Out of them, 600 000 people work and live in villages. They are part of agriculture. Now, let me tell you how the program covers everything. First, we say that every person, who evidence that they no longer have an income, we will take care. We will be paying out social allowances to them and already started to do so. So far 52 000 individuals have already received their social allowances.

Big part of the referred 800 000 is self-employed or fall under an informal sector, who are peasants living in villages and engaged in agriculture. We tell them that 435 GEL will be provided as a subsidy per hectare and many other things. Let us deduct this as well.

In addition and I wish to consider that socially vulnerable groups with scores in the range of 65 000 to 100 000 include a big portion of self-employed people. You should know one thing: it is the first case in the country, when under the consideration of social needs, State is telling people who have scored in the range of 65 000 to 100 000 that they will receive social allowances in the amount of 600 GEL, but on top of this, if they have a large family they will be getting additional 600 GEL and if they have a disabled person in the household they will be getting additional 600 GEL. Such sustainable initiative has never been carried out in the country. Let me be frank and sincere with you: irrespective of all, part of the self-employed and those falling under the informal sector may indeed get left out if they fail to evidence that they lost income.

Let me also acknowledge that I have heard some truly interesting proposals here in this hall from some colleagues on this side that I really liked. It is a process and you understand that our social security program is not one-off and not a populistic one. It is planned for 6 months ahead. Hence, let me assure you that we will help them all, but remember it well that when we do it, we will be reminding you what was voiced here. We will be using one of your very interesting proposals, which I liked most" noted the Prime Minister of Georgia.
Head of Government of Georgia also spoke about the pension system reform and pension fund, thereby noting that it is a long-term economic tool.
"Irrespective of the fact that poverty has been reduced by 10%, it is still rather large and requires great effort. Pension system reform and the pension fund are long-term economic tools. When you are offering to open-up the pension fund and spend the funds in the conditions of the crisis, you evidence that not only you have no clue in economics, but you are populistic as well," noted the Prime Minister of Georgia.
Head of Government of Georgia believes that effective forecasting of the pension fund requires 10 and more years.
"Let me tell you more. The profitability of the fund today is 14 per cent as resources are placed in most conservative tools, which is not bad at all. Actually you, my dear colleagues, come out and say that pension fund should be opened-up and money should be spent, while the pension fund is a guarantee of old age and decent social security. I have no other guarantee," noted the Prime Minister of Georgia.
Head of Government of Georgia called the opposition for being assuming a political risk and registering legislative amendments at the parliament if they are sure in the necessity of opening-up the pension fund.
"If you are so sure about opening-up the pension fund, it requires legislative amendments. Do you really think that it is a great idea? Initiate the amendments, assume this political risk, register the proposal at the parliament and call upon the Parliament of Georgia to make it happen. We will then see how this initiative will be valued," the Prime Minister of Georgia stressed.
According to the Head of Government of Georgia, political pluralism is extremely risky especially when the country is fighting against the global pandemic.
"Political pluralism contains extremely high risk at any time and in any political process, however, it is particularly so when the country is fighting against a global pandemic when the country is challenged with significant economic challenges and has elections ahead when the country is occupied and borderisation is progressing on a daily basis. Political populism in such conditions is no longer a threat, it is extremely irresponsible behaviour. It is an objective reality," said the Prime Minister of Georgia.
According to the Head of Government of Georgia, the country gets harms as a result of this and in the very first instance.
"In real terms and with the current process happening in the country, the country gets harmed in the first instance as the price of opposition is the highest and most significant for us – the ruling party. However, when this opposition tends to be demagogic and populistic, it turns out that we stand idle and get stuck in one place. That is what I meant and it is criticism towards us as well. It was towards me as well. When I said that this country deserves a better opposition and these are not mere words…

The opposition, which needs to be reminded of curtailing its ego to prioritize the country and its interests; opposition, which needs to be reminded that poverty and hardship should not be used to gain political rating is simply immoral. It is sad. I understand that some political groups are guided by politics and morality not being the right match, but we tend to believe differently," PM said.
The Head of Government of Georgia addressed MP Bokeria and explained that the financial stability of the country would have suffered from an economic plan of the opposition.
"It seems that after the day before yesterday someone scolded you and that is why you behave with extra aggression today or you got tired and rested afterwards. Calm down! Stay still! Be more argumentative and solid. Real argument is one: financial stability of the country would have suffered according to your plan. You would simply have failed to pay pensions to people in May with this silly numbers. You would have failed to pay salaries and wages to the police. All of this is a political speculation and you are trying to impress someone. Continue doing that, but with more emotions and it will be much better," concluded the Prime Minister of Georgia.