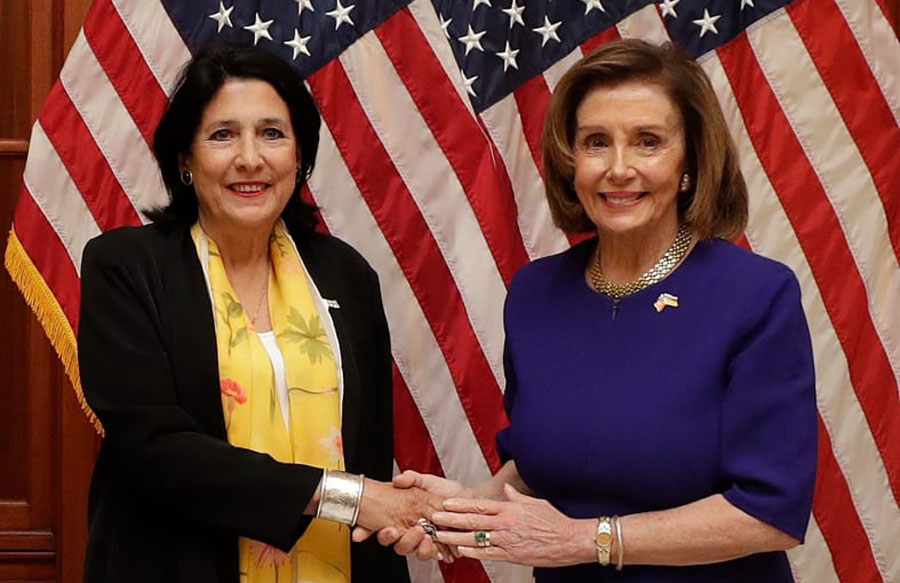 U.S. House Speaker hosts Georgian President at Capitol
Georgian President Salome Zourabichvili Thursday met with U.S. House Speaker Nancy Pelosi at the Capitol building.
Talking with @SpeakerPelosi on Ukraine and the unjustified Russian aggression and the importance of US continued support to Georgia in these crucial times.

As women leaders, we must have a strong voice against conflict and for peace. pic.twitter.com/FYCX2Xw2oc

— Salome Zourabichvili (@Zourabichvili_S) April 28, 2022
Dignitaries reviewed regional developments and Russia's war in Ukraine, the President's press office said.
Zourabichvili thanked Nancy Pelosi for Georgia Support Act, adopted by U.S. House, saying "it underscores the U.S. support and the importance of close Georgia-U.S. strategic cooperation."
While briefing the Speaker on the situation unfolding in the occupied territories of Georgia, the President stated that kidnappings and gross violations of human rights continue.
Today, I had the official privilege of welcoming Her Excellency Salome Zourabichvili, President of Georgia, to the U.S. Capitol.

Congress proudly stands with the people of Georgia, and we remain unwavering in support of their sovereignty in the face of Russian aggression. pic.twitter.com/UFfDJWVGCG

— Nancy Pelosi (@SpeakerPelosi) April 28, 2022
The meeting also tackled Georgia's prospects for European and NATO integration alongside with Ukraine and Moldova and the EU membership application.
Alluding to the regional events, the meeting highlighted the importance of Black Sea security.
Georgian President personally invited Nancy Pelosi to the International Women's Conference slated for May in Tbilisi. The President-initiated conference will be dedicated to peace and security issues, the press office stated..
Salome Zourabichvili was invited to attend a farewell ceremony for Madeleine Albright, the former secretary of state, who died last month.
Just now: Meeting with @SpeakerPelosi pic.twitter.com/cxabg8wpyE

— Salome Zourabichvili (@Zourabichvili_S) April 28, 2022