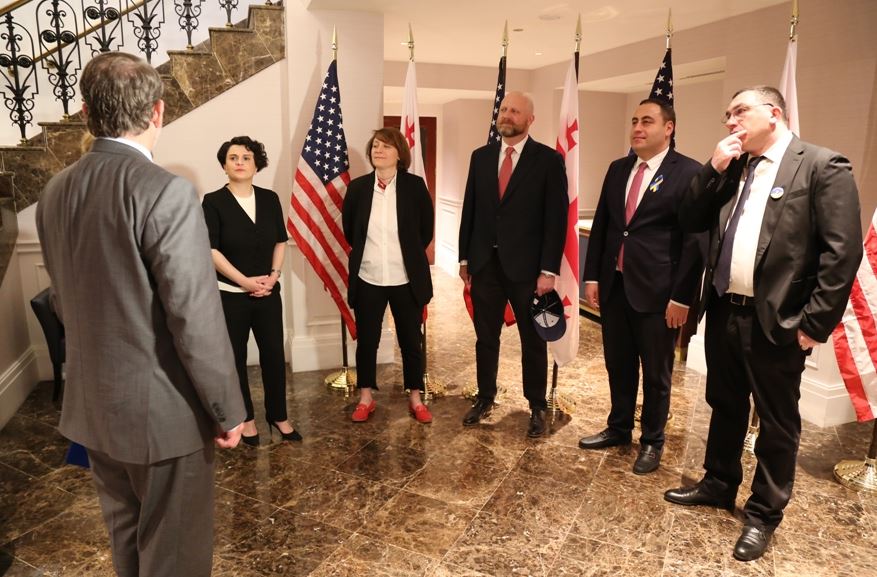 U.S. Congressional delegation meets opposition parties
U.S Congressional delegation is meeting with representatives of the opposition parties within the framework of their Tbilisi visit.
Leaders of the Strategy Aghmashenebeli, United National Movement (UNM), Droa, European Georgia and Girchi-More Freedom parties participate in the meeting at the Tbilisi Marriott Hotel. U.S Ambassador to Georgia Kelly Degnan attends the meeting.
The Strategy Aghmashenebeli party leader Giorgi Vashadze said the visit confirms that Georgia is a significant and priority strategic partner for the U.S.
"This visit is an opportunity to voice our national interests amid the regional threats facing Georgia. With the implementation of new geo-political projects, Georgia may become a transit corridor, a hub, as an alternative to Russia, for gas, oil. This is the chance to demonstrate that without democratic processes and reforms, all projects can foil," Vashadze said.
The delegation is scheduled to meet with Prime Minister Irakli Garibashvili and Foreign Minister Ilia Darchiashvili on Friday.
U.S. Congressional delegation arrived in Georgia on April 21. Senator Chris Coons, Chairman of the Appropriations Subcommittee on State and Foreign Operations and member of the Senate Foreign Relations Committee, leads the delegation.
The delegation includes Senators Gary Peters, Chairman of the Homeland Security and Government Affairs Committee, and Bob Casey, and Representatives Stephanie Murphy, Kathleen Rice, David Cicilline, and Ted Deutch. The delegation will depart for France, and Italy later this afternoon.