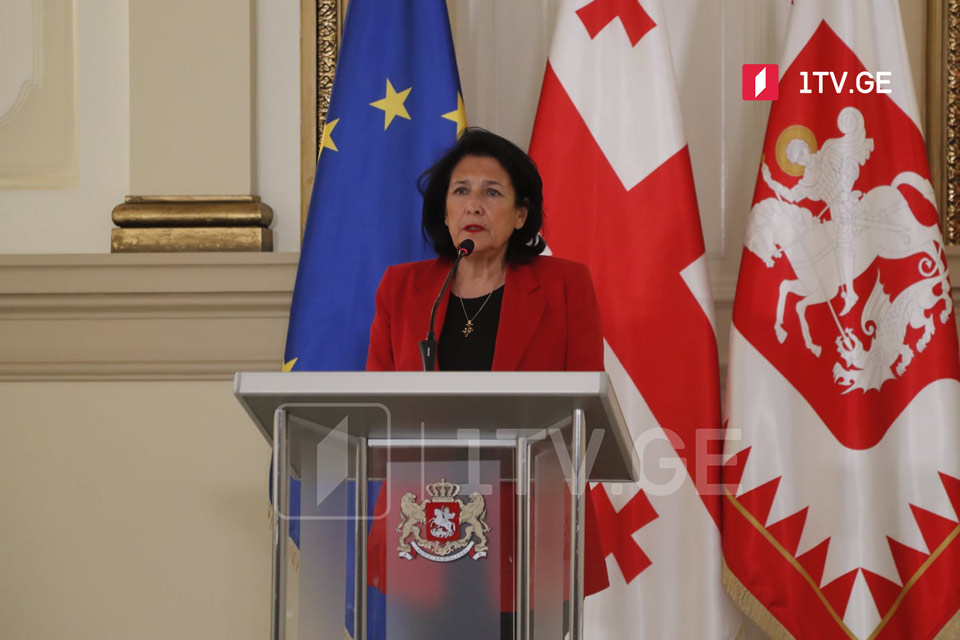 President Zourabichvili dubs EU membership questionnaire to be a new chance
"Today is one of the most momentous occasions in the history of Georgia. We've received a questionnaire from the European Union today that we probably did not expect for several years," Georgian President Salome Zourabuchbili said at a Monday briefing.
Zourabichvili describes obtaining the EU membership questionnaire as a great new chance for Georgia.
"We should be grateful to all EU member states and the EU leadership, the European Commission, and the Council of Europe, but we should be even more thankful to Ukraine and its struggle. It would never happen so quickly if not for that brave struggle. Nobody knew when it would happen. Given this tragic situation, the EU has decided to speed up this process and make it more political than bureaucratic," Zouravichvili declared.
President believes that this is a great responsibility for the country.
"It is a national matter, a national interest. I hardly imagine we are not united in such a great national matter that our ancestors dreamed of since the first independence," she added.
President called on everyone to unite under this great purpose. "I'm sure we can do it," she added.
Oliver Varhelyi, the European Commissioner for Neighbourhood and Enlargement, handed over the EU membership questionnaire to Georgian Foreign Minister Ilia Darchiashvili in Luxembourg today. Georgia officially applied for EU membership on March 3. The European Council invited the European Commission to submit its opinions on the EU membership applications of Moldova and Georgia on March 11.