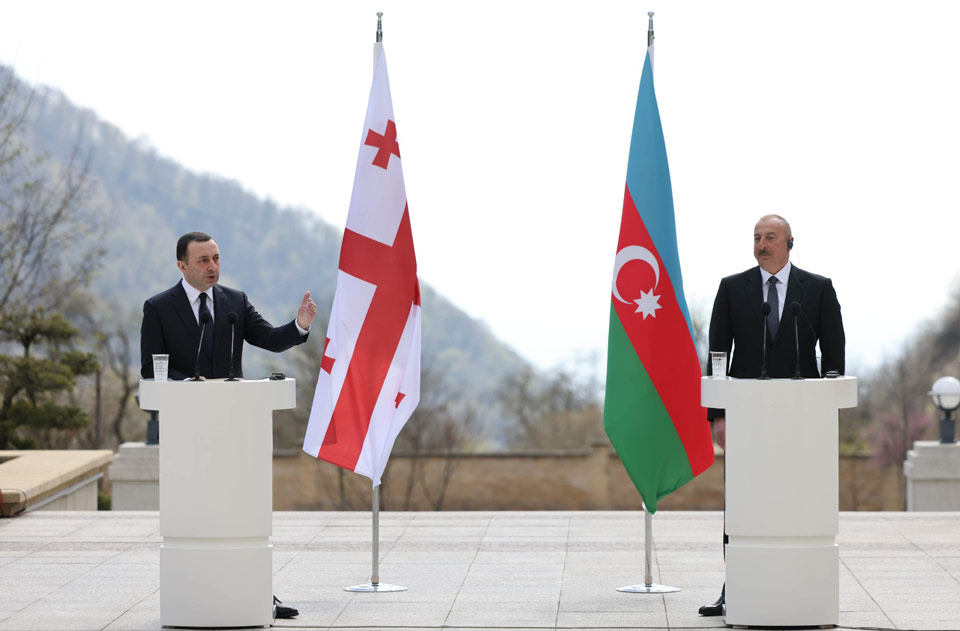 PM names Azerbaijan Georgia's strong strategic trade partner
"Azerbaijan is not only our friend and neighbour but also a strong strategic and trade partner," said Georgian Prime Minister Irakli Garibashvili in Azerbaijan's Gabala region at the joint press briefing with Azerbaijan's President Ilham Aliyev.
Irakli Garibashvili emphasized that Georgia and Azerbaijan have been jointly and successfully implementing many significant and milestone projects for many years that "further linked the two nations" and will continue "for centuries" in the future.
"Georgia is a reliable transit partner country to carry out these significant projects. As the President mentioned, we continue to work and do not rest. We are working on new initiatives, such as the Black Sea electricity cable to develop the so-called green corridor.

Georgia and Azerbaijan have a huge potential to supply Europe with green, renewable energy that is a prospect and has a future. We, both countries, need to invest more, and we talked about these issues," he stated.
Georgian Prime Minister Irakli Garibashvili is on an official visit to Azerbaijan.
During meeting w/ @presidentaz highlighted that 🇬🇪 values its strategic partnership w/ 🇦🇿, & is committed to deepening co-op across a variety of sectors, incl. energy, trade, transport & security. Together we can address regional challenges & promote co-op for mutual interests. pic.twitter.com/GPnE9qPrXP

— Irakli Garibashvili (@GharibashviliGe) April 7, 2023