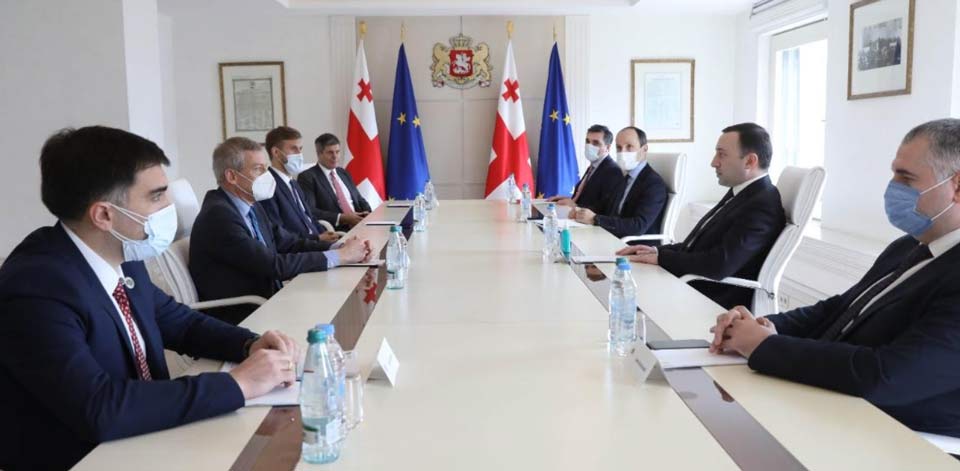 PM meets Pension Fund's Investment Board
Georgian Prime Minister Irakli Garibashvili met members of the Investment Council of the Pension Fund. The meeting at the Government Administration focused on the role of the Pension Fund in the development of the Georgian economy and stressed the importance of long-term investment sources in this regard.
The participants also discussed the results of the past period and future plans. Council members presented initiatives for legislative improvement. Under the funded pension law, the agency's investment activities currently include only low-risk portfolios.
The Pension Fund plays an important role in the development of the country's economy. In particular, GEL long-term investment capital is emerging in the country, which is important for the implementation of long-term investment projects; Investment capital is supplied to the economy mainly through the capital market, which contributes to the development of the capital market; The level of savings in the Georgian economy is significantly increasing, which, in turn, helps to balance the market interest rate on loans.
Currently, up to 1.1 million people are members of the funded pension scheme. The total asset value is GEL 2.17 billion, of which the accrued interest on investment activities is GEL 309 million. The current annual effective rate of return is 11.6%, and the rate of return from the effective date of the fund is 34%.
As of today, the funds are fully deposited in 8 commercial banks and GEL denominated instruments, where 62% of the assets are in certificates of deposit and 38% in current interest accounts.
The Pension Agency is an independent legal entity under public law, which is responsible for the implementation, management and administration of the funded pension scheme.
Olivier Rousseau, Chairman of the Investment Board of the Pension Fund, Jean-Frederic Paulsen, Deputy Chairman of the Board, Michael Riddle and Timo Wieherkenta, Vice-Prime Minister, Minister of Economy and Sustainable Development Levan Davitashvili, Minister of Finance Lasha Khutsishvili and the director of the Pension Agency Giorgi Danelia participated.