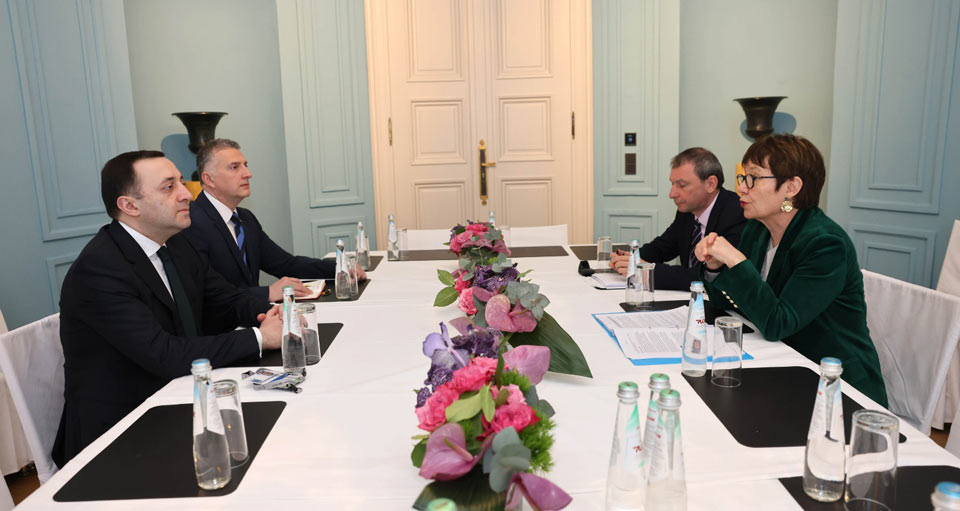 PM meets EBRD President
Georgian Prime Minister Irakli Gharibashvili and the President of the European Bank for Reconstruction and Development (EBRD) Odile Renaud Basso met in Munich within the framework of the Security Conference (MSC).
The PM thanked Odile Reno Basso for the support provided by the EBRD to Georgia's European aspirations.
The parties reviewed the current and future projects financed by the Bank, which are implemented in the fields of transport infrastructure, municipal infrastructure, education, energy, banking sector and agriculture.
The PM informed the EBRD President about the economic situation in Georgia and noted that the country continues to achieve double-digit economic growth in the face of the most difficult challenges in the world, maintaining sustainability and macroeconomic stability.
Georgian PM echoed the meeting with the EBRD President on Twitter.
"Great meeting with Odile Renaud-Basso, EBRD President, in the frames of the Munich Security Conference. Thankful for supporting important reforms in public and private sectors and for being responsive to Georgia's strategic directions. Looking forward to enhance our cooperation to continue Georgia's development," he tweeted.