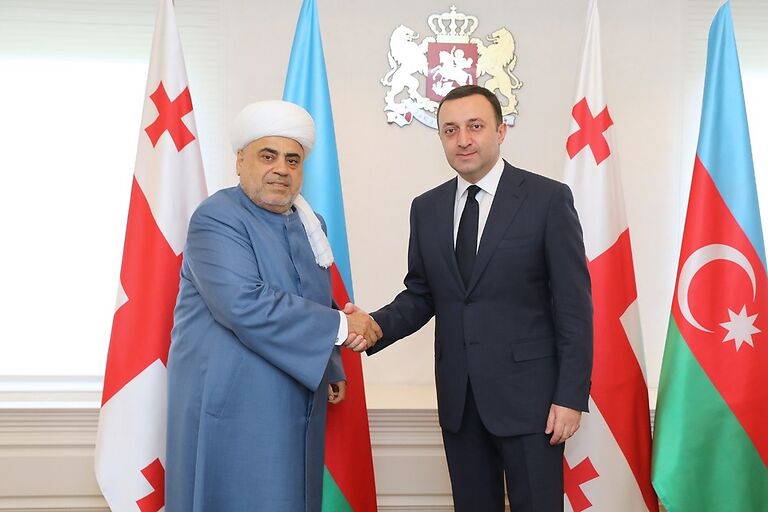 PM meets Chairman of the Caucasus Muslim Division
Georgian Prime Minister, Irakli Gharibashvili, met the Chairman of the Caucasus Muslim Division, Allahshukuri Pashazade.
The Chairman of the Caucasus Muslim Division gave Irakli Gharibashvili a warm greeting from the President of Azerbaijan Ilham Aliyev.
PM noted at the meeting that Azerbaijan is not only a neighbor of Georgia, but a brotherly people, a friendly state, and Georgia values ​​the brotherhood and friendship that exists between the two countries.
"I would like to once again confirm our great respect for you. I am glad to see you in Georgia. It is a great honor for us to host you in Georgia, I remember we met a few years ago, we had a very good conversation and I am glad that you visited us again today in Tbilisi.
I always say that Azerbaijan is not only our neighbor, but also our brotherly people, our friendly state, and of course we highly value the brotherhood and friendship that exists between our countries. In all directions, we have extraordinary results, concrete progress, we have a very good relationship, and your visit is a proof of this brotherhood and love. "I am especially pleased by the fact that you have a special friendship with our Holiness, and I know about your special respect," said the Prime Minister.
At the meeting, Allahshukur Pashazade emphasized the contribution of the Prime Minister of Georgia to the brotherly and friendly relations of the two countries.
"Thank you for giving us your valuable time. Our previous meeting took place in a warm and friendly atmosphere, and of course I welcome you. Before the visit started, we had contact with President Ilham Aliyev, and he especially asked me to convey his warm greetings to you personally, and I fulfilled this duty. I am not a politician, but the fact that the relations of these two neighboring countries in the Caucasus are at a high level in terms of political, economic, cultural, religious and other directions is definitely noteworthy.
About the relationship between you and Mr. President, I had a conversation with Mr. President in previous meetings. He always mentions you in a special way, he has great respect for you, and your relationship is reflected in people, countries, and your high-level relationships, and this is an example for us," said Allahshukur Pashazadeh.
At the meeting, attention was focused on various measures implemented by the Georgian government in the direction of supporting the Muslim community.
It was said at the meeting that the state has given 228 mosques to Muslims, as well as 1300 square meters. meter of land in Tbilisi for the construction of the central office of the "Fully Georgian Muslim Division". As of today, there are 300 functioning mosques in Georgia.