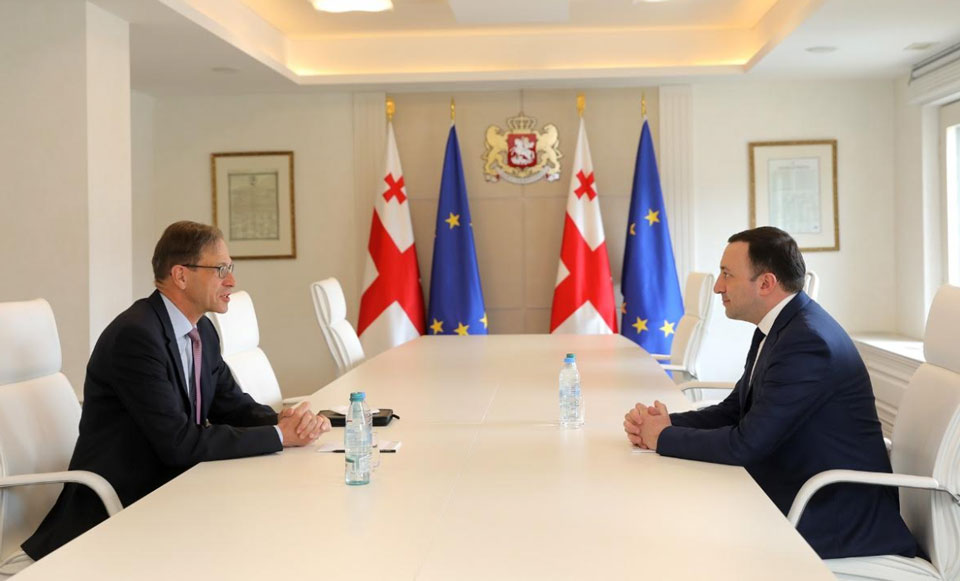 PM discusses Georgia's EU membership application with German Ambassador
Official EU Membership Application filed by the country and relations between Georgia and Germany were among the key discussion topics between Georgian Prime Minister Irakli Garibashvili and German Ambassador Hubert Knirsch, the government has said.
PM noted that the EU Accession Questionnaire handed over by the European Commission to Georgia on April 11, is the launch of a new stage in the relations of Georgia with the EU, which puts a huge responsibility onto the country towards intensifying its efforts for EU membership. According to him, every institution is actively working in a coordinated manner for the completion of the process in an efficient and effective manner, while the process is under the personal guidance and oversight of the Prime Minister of Georgia.
It was noted at the meeting that the country is successfully continuing with the implementation of democratic reforms envisaged in the agenda of the EU Association Agreement (AA), thereby highlighting the most significant role of support demonstrated by Germany among other international partners in this process.
The discussion was also related to the military activities witnessed in Ukraine. Irakli Garibashvili reiterated the political support and solidarity of Georgia towards Ukraine, particularly noting the humanitarian aid provided to the Ukrainian people by the Georgian side.
Vocational education was also reviewed at the meeting. PM said the government assigns high importance to the development of vocational education in the country, as well as the engagement and support of Germany in this process.