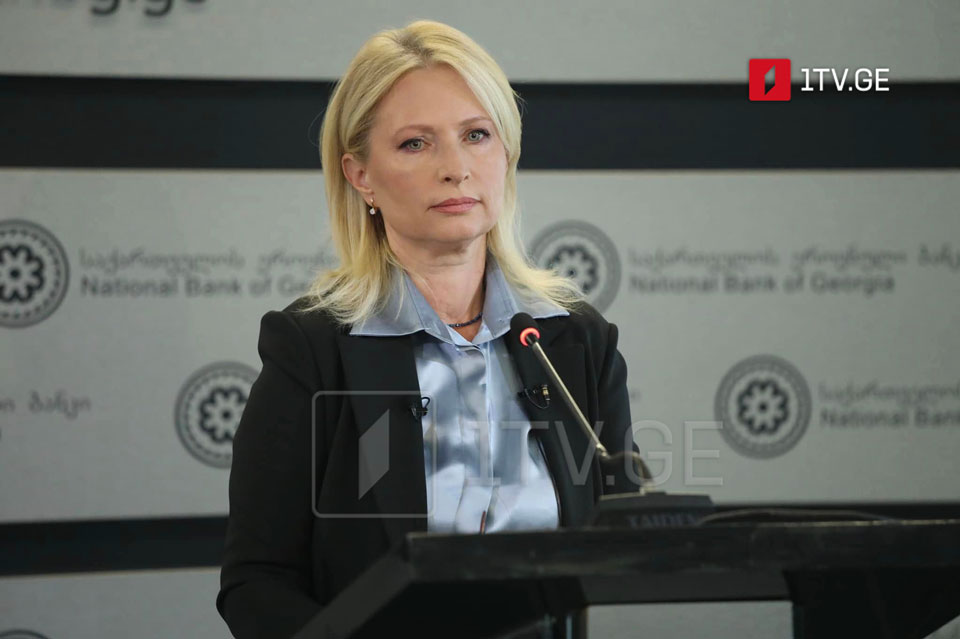 NBG Acting President says amendments to sanction procedure aim at safeguarding constitutional rights of each Georgian citizen
"Georgia and its financial system will never circumvent the sanctions. We have a strong monitoring system and have repeatedly received positive assessments from our international partners. We will continue to be committed to international obligations," said Natia Turnava, the National Bank of Georgia (NBG) Acting President.
Natia Turnava clarified that amendments to the procedure for executing sanctions introduced by the bank aim at safeguarding the constitutional rights of Georgian citizens only. She said the NBG, since February 2022, had complied with the requirements of the international sanctions imposed by the USA, the European Union and the United Kingdom against Russia and Belarus.
However, as Natia Turnava noted, the amendment was made due to an "unprecedented case" when the procedure for executing sanctions referred to a Georgian citizen.
"Our decision is a precedent and will extend to each Georgian citizen," she said, adding the amendment concerns only Georgian citizens rather than a "concrete person."
"The name and surname of the sanctioned citizen of Georgia is not important to us. Therefore, I would like to say from the beginning that linking this decision with a specific person's protection or avoiding sanctions is an attempt to politicize the issue," she said.
According to the NBG Acting President, the NBG is a sovereign state national institution that respects international commitments but foremost is guided by the Georgian Constitution and legislation.
"Therefore, in the process of enforcement of the international sanctions, when it concerns or will concern any citizen of Georgia who may find himself/herself in such a situation, our obligation is to protect the fundamental rights defined by the constitution thoroughly in the process and to ensure compliance with the constitution and legislation," she stated.
In addition, Natia Turnava remarked that sanctions are not enforced automatically in all cases, while similar practices could be found in developed countries.
The NBG, on September 19, lifted restricted access to bank assets and financial transactions to the US-designated former Georgian Prosecutor General Otar Partskhaladze, having emphasized that international sanctions should not apply to a Georgian citizen unless there is a guilty verdict in a relevant case issued by a Georgian court.
As NBG explained, it introduced amendments to the procedure for executing sanctions regimes to uphold the rights and freedoms of Georgian citizens as guaranteed by the Constitution of Georgia.
"The National Bank of Georgia reiterates its commitment to complying with international sanctions requirements while safeguarding the constitutional rights of its citizens," it read.
On September 14, the Department of State announced the designation of individuals and entities to impose further costs in response to Russia's unprovoked war against Ukraine. The Department has designated "a Georgian-Russian oligarch, Otar Partskhaladze, pursuant to Section 1(a)(i) for operating or having operated in the management consulting sector of the Russian Federation economy.