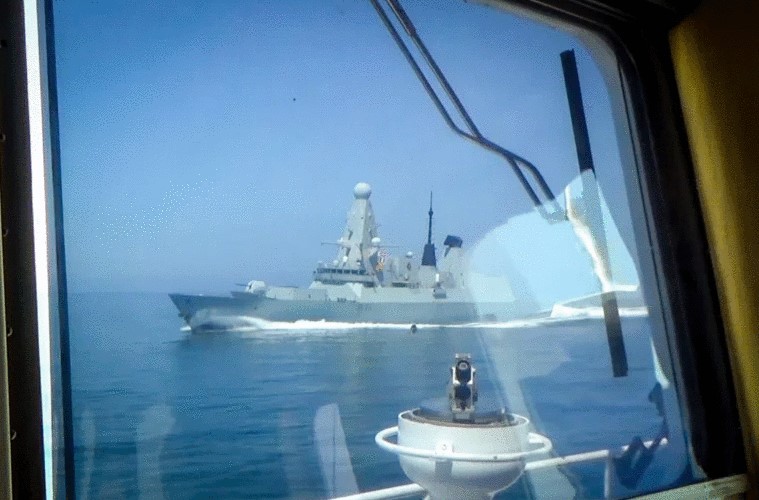 NATO to see chasing British warship in Black Sea as Russia's well-choreographed move, experts believe
Russia-UK relationship has been at its lowest point of the last few years, said Deborah Sanders, a Reader in Defence and Security Studies at King's College London, after Russian jets and ships shadowed a British warship last week.
BBC correspondent, who had been invited on board the ship before the incident happened, said he saw more than 20 aircraft overhead and two Russian coastguard boats, which at times were just 100m (328ft) away.
Dr Sanders, who specialises in security issues in the Black Sea, believes this incident is an example of how difficult that relationship is at the moment.
"Russia-UK relationship has probably been at its lowest point of the last few years that has ever been. It's probably at its worst point since the cold war itself, and relations have been strained and difficult," she underscored.
Dr Sanders claims the idea that it was a provocation is a story, a fairy tale that has been made up by the Russian government.
"I think they [Russia] have used the word provocative or provocation on purpose to make it look like the UK has been acting as an aggressor during this incident, and I think that it plays into Russia's fake news. It's absolutely not a provocation by the UK. It's a routine operation for the UK to show support to our NATO partners, both Ukraine and, of course, Georgia where the HMS Defender was heading towards," she stressed.
She thinks this incident will be seen within NATO as part of a well-choreographed move by Russia, as part of their playbook in the Black Sea.
"Since the illegal annexation of Crimea in 2014, Russia has engaged in a systematic process of intimidation for all NATO maritime platforms that have entered the Black Sea and the incident with HMS Defender is part of Russia's playbook to try to deter NATO operations and exercises with our allies and partners in the Black Sea," she declared.
Dr Sanders says one of the problems faced in the Black Sea is that there is no agreement between the littoral states to the extent to which NATO should have a footprint. She further thinks that NATO is a little hamstrung in terms of what it can do in the Black Sea because of the key differences between the coastal countries.
An attempt to encourage facilitate greater cooperation amongst the littoral states seems an ideal solution for Dr Sanders.
"Turkey has a slightly different understanding of NATO's presence in the Black Sea and, to some extent, this is echoed by Bulgaria as well, which has more sympathies, perhaps a better understanding of the Russian Federation, as they would see it. Once you throw Romania into the mix, who is very keen to encourage a much larger and more significant NATO presence in the Black Sea, then you can see, even amongst our NATO allies, the three of them in the Black Sea, there is no consensus on what NATO should be doing in the Black Sea. When you add in our NATO partners, Georgia and Ukraine, who are very keen to embrace NATO, stepping up much more in the Black Sea region as a whole, then you can see that even amongst the littoral states the lack of agreements stopped NATO from being able to push forwards with a coherent position on the Black Sea region," she stressed.
HMS Defender was sailing from Odesa in southern Ukraine to Georgia.
According to foreign media outlets, Russia said it chased the British destroyer out of Crimea waters [Russia annexed from Ukraine in 2014] with warning shots and bombs, a claim denied by the UK government.
We believe the Russians were undertaking a gunnery exercise in the Black Sea and provided the maritime community with prior-warning of their activity.

No shots were directed at HMS Defender and we do not recognise the claim that bombs were dropped in her path.

— Ministry of Defence Press Office (@DefenceHQPress) June 23, 2021
On June 26, HMS Defender made a port call in the Georgian Black Sea port in Batumi.
Honoured to welcome guests from @GovernmentGeo on @HMSDefender

?? is committed to Black Sea security, stability & prosperity, & to ?? territorial integrity & sovereignty.

We'll continue to work with ?? to safeguard democracy, international law & regional security. #CSG21 pic.twitter.com/2RT5ENVF1x

— UK in Georgia (@UKinGeorgia) June 27, 2021