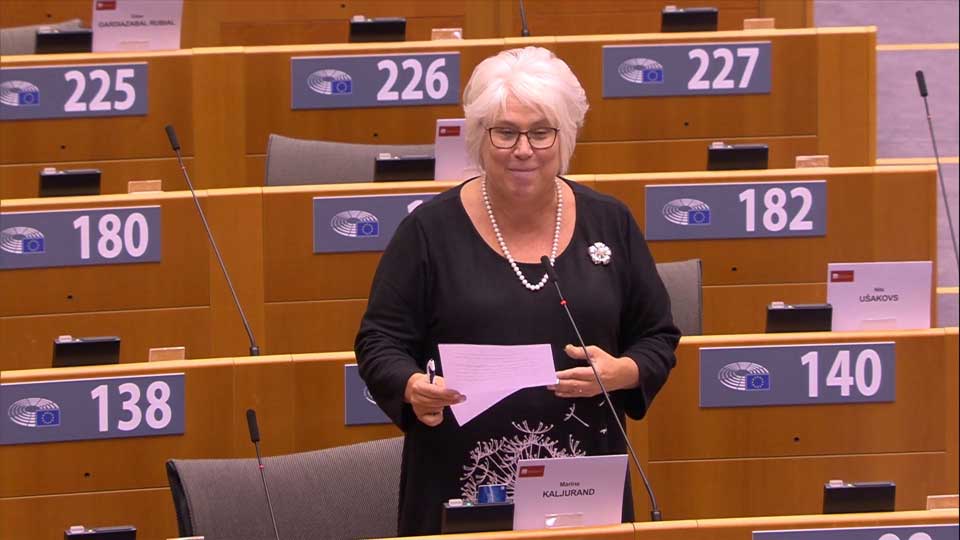 MEP Marina Kaljurand to urge the opposition to reconsider its position
Marina Kaljurand, a member of the European Parliament from Estonia echoed the Georgian opposition's refusal to sign a compromise document that could be a solution to the Georgian political crisis.
In an exclusive interview with the Georgian Public Broadcaster, Marina Kaljurand urged the opposition to reconsider its position.
"Today all the eyes are on them. Today they bear the responsibility for finding a compromise and ending the crisis. They have to understand that if the solution is not found, then the opposition will be the one who will be blamed for not finding the solution. I very much hope that they will make their steps towards the solution. If the solution is not found, then we are back at the stage when Danielsson left during the second mediation round, there was a statement of 7 MEPs and when we made it very clear that in this situation, our relations with Georgia, EU's with Georgia will not remain the same as they have been so far. It is very regrettable.
Once again I would like to urge all political leaders of the opposition to consider every step, every sentence they are going to say starting from today because this will have impact on Georgia's nation, it will have impact on Georgia's relation with the EU. These are not words, it is the real world.
The EU invested in the crisis on its highest level. We cannot go higher than the European Council President Michel and his personal mediator Ambassador Danielsson. So I would like to urge everybody to take that very, very seriously. And if not all opposition parties can accept the deal, then at least I would like to urge those, who can accept the deal, come public, make statements, go to parliament, sign the document, because that might also have impact on other opposition parties, who are making up their decision. I think nobody wants today to be alone in the corner and be blamed," Marina Kaljurand said.
The ruling Georgian Dream party publicly signed the compromise solution prepared by the European Council President Charles Michel's personal envoy Christian Danielsson on April 16.
The opposition participating in the negotiations refused to sign the compromise paper unless early elections and release of the United National Movement Chair, Nika Melia, and the co-founder of the TV channel Mtavari Arkhi Giorgi Rurua.