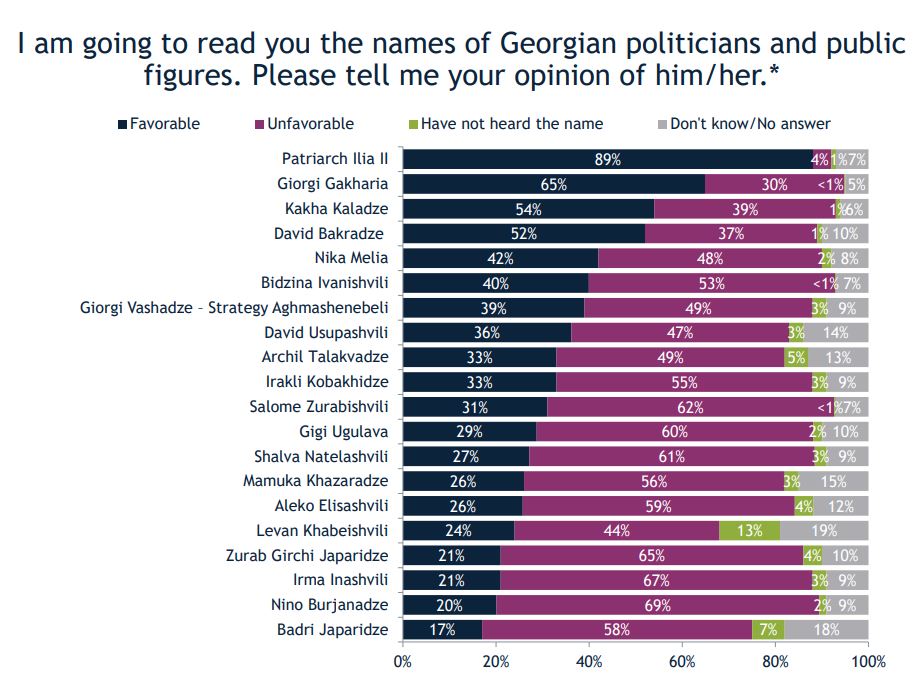 IRI: Patriarch Ilia II, Giorgi Gakharia, Kakha Kaladze lead among Georgian politicians and public figures
According to the analysis conducted by the International Republican Institute's (IRI) Center for Insights in Survey Research, Patriarch Ilia II, former Prime Minister Giorgi Gakharia, and Tbilisi Mayor Kakha Kaladze lead among Georgian politicians and public figures.
In particular, 89 per cent of Georgians named Patriarch Ilia II among the most favourable public figures, 65 per cent named Giorgi Gakharia and 54 per cent Kakha Kaladze.
David Bakradze was favoured by 52 per cent of the surveyed citizens, 42 per cent named Nika Melia, 40 per cent Bidzina Ivanishvili, 39 per cent Giorgi Vashadze – Strategy Aghmashenebeli, 36 per cent David Usupashvili, 33 per cent Archil Talakvadze, also 33 per cent named Irakli Kobakhidze, 31 per cent Salome Zourabichvili, 29 per cent Gigi Ugulava, 27 per cent Shalva Natelashvili, 26 per cent Mamuka Khazaradze, same 26 per cent Aleko Elisashvili, 24 per cent Levan Khabeishvili, 21 per cent Zurab Girchi Japaridze, 21 per cent Irma Inashvili, 20 per cent Nino Burjanadze and 17 per cent Badri Japaridze.
This survey was conducted on behalf of IRI's Center for Insights in Survey Research by Dr Rasa Alisauskiene of the public and market research company Baltic Surveys/The Gallup Organization between February 2 and February 26, 2021. The fieldwork was conducted by the Institute of Polling and Marketing. Data was collected using a multistage probability sampling method through in-person, in-home interviews. The sample consists of 1,500 Georgians aged 18+ and eligible to vote. The data was weighted for age, gender, region and settlement size. The margin of error is plus or minus 2.5 per cent, and the response rate was 75 per cent. This survey was made possible by the support of the American people through the (USAID).