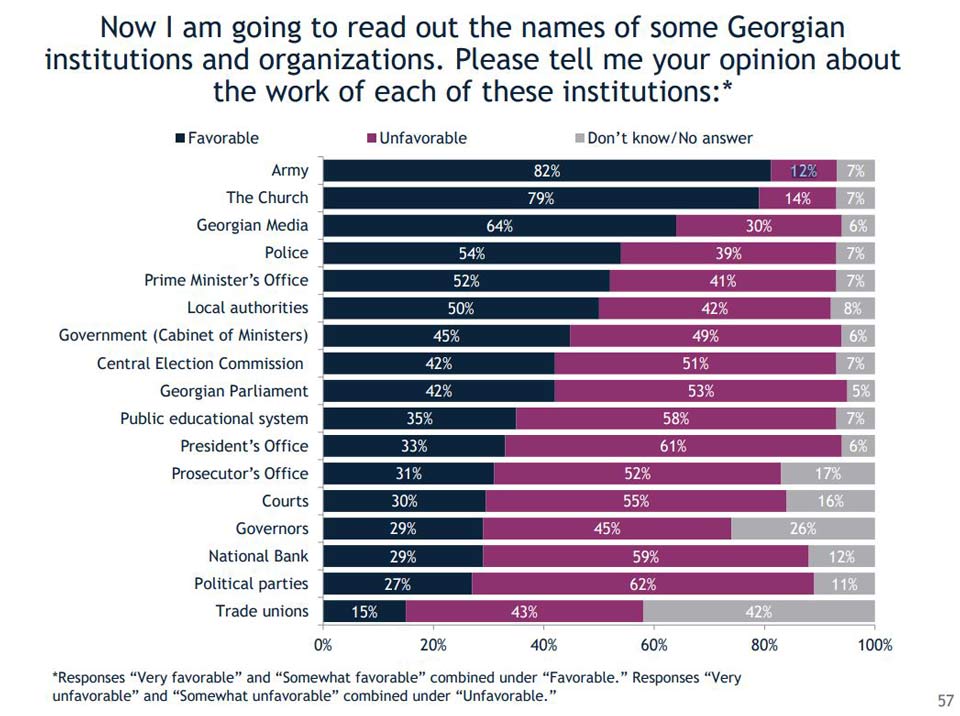 IRI: Army, church, media lead in Georgian institutions and organizations rating
According to the analysis conducted by the International Republican Institute's (IRI) Center for Insights in Survey Research, the Georgian army tops the rating of Georgian institutions and organizations. 82 per cent of surveyed citizens favour the work of this institution, and 12 per cent do not like it.
When it comes to the church, 79 per cent of Georgians positively evaluate its work and 14 per cent negatively. Sixty-four per cent say they are favourable about the work of the Georgian media, while 30 per cent dislike it.
According to the survey, police got 54 per cent in favour against 39 per cent, who evaluate its work negatively. The Prime Minister's Office wins fourth place, 52 per cent of the surveyed evaluate it favourably, and 41 per cent dislike it.
This survey was conducted on behalf of IRI's Center for Insights in Survey Research by Dr Rasa Alisauskiene of the public and market research company Baltic Surveys/The Gallup Organization between February 2 and February 26, 2021. The fieldwork was conducted by the Institute of Polling and Marketing. Data was collected using a multistage probability sampling method through in-person, in-home interviews. The sample consists of 1,500 Georgians aged 18+ and eligible to vote. The data was weighted for age, gender, region and settlement size. The margin of error is plus or minus 2.5 per cent, and the response rate was 75 per cent. This survey was made possible by the support of the American people through the (USAID).