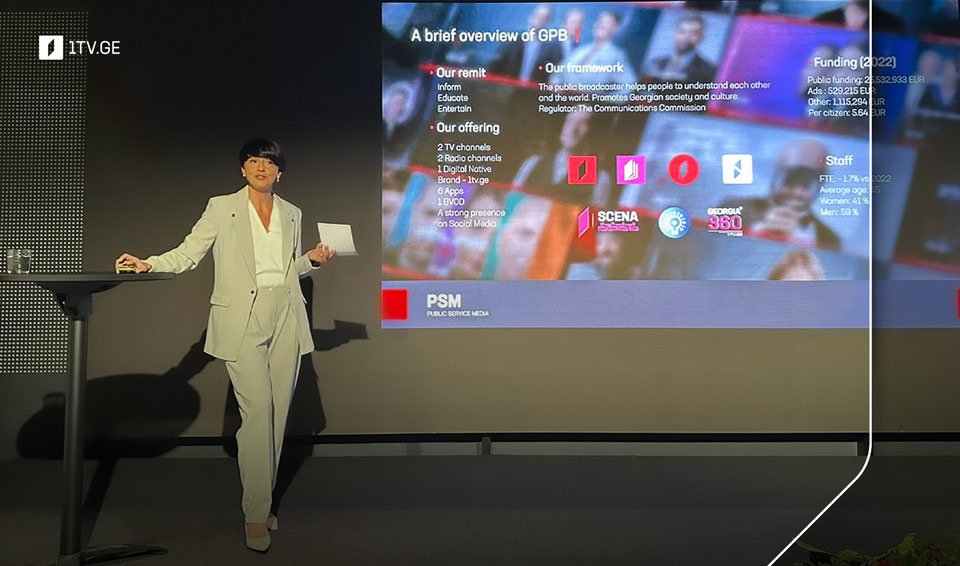 GPB's Director General to be EPRA Forum Speaker
Tinatin Berdzenishvili, Director General of the Georgian Public Broadcaster (GPB), is the Forum Speaker of the European Platform of Regulatory Authorities (EPRA).
Tinatin Berdzenishvili addressed the forum's thematic session: "Public service media for the public good."
The session was structured around a discussion of how regulatory bodies should assist public broadcasters in maintaining their independence and sustainability.
EPRA Vice President and Director of Norwegian Media Authority, Mari Velsand, chaired the session.
Deniz Wagner from the Office of the OSCE Representative on Freedom of the Media opened the session and spoke about the significance of content expressing public interests for media freedom strengthening.
GPB Director General and Vibeke Fürst Haugen from the public service media in Norway (NRK) spoke about the challenges of public broadcasters.
Tinatin Berdzenishvili stressed the advantages of sustainable development, digital transformation and intellectual property ownership.
"It is a great honour to be the forum speaker at the European Platform of Regulatory Authorities, which includes representatives from leading international organizations and European media outlets. The Georgian Public Broadcaster is a European institution, and we all face similar challenges. To solve those challenges we need to employ a unified approach and share experience. Today's session is a perfect example," said Tinatin Berdzenishvili.
The 57th EPRA meeting takes place on 31 May-2 June 2023 in Oslo. The event, hosted by the Norwegian Media Authority, brought together about 160 delegates representing 52 member authorities, permanent observers and invited media experts who discuss current issues pertaining to audiovisual media regulation in Europe.
Created in 1995, the European Platform of Regulatory Authorities (EPRA) is a forum for informal discussion and exchange of views between regulatory authorities. During this 57th meeting, EPRA members will also elect a new Executive Board.