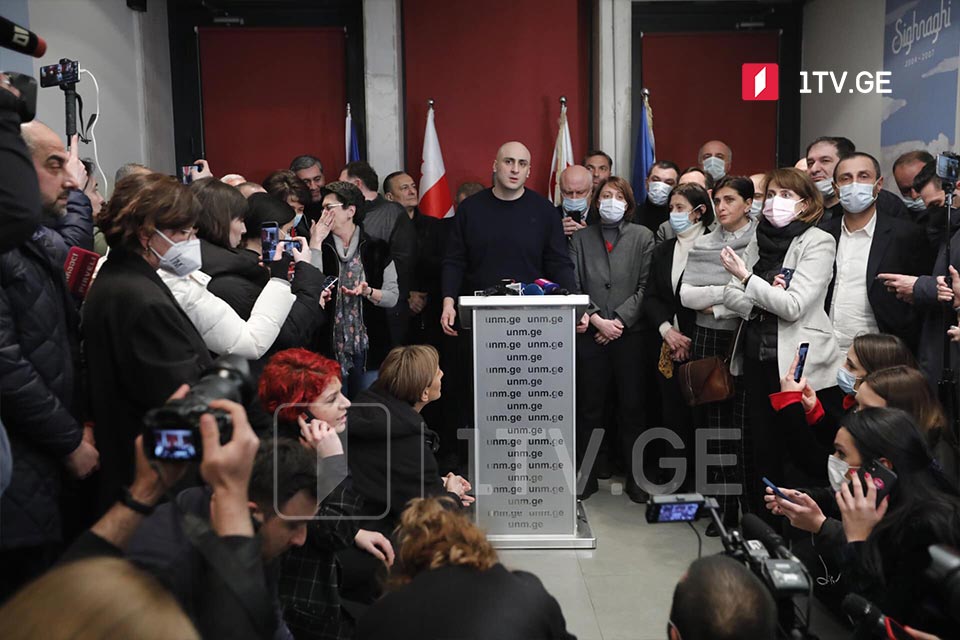 Gov't, opposition comment on UNM Nika Melia as single opposition mayoral candidate
Zaal Udumashvili, a member of the United National Movement (UNM), says the party will start working on important issues and future strategy.
According to Udumashvili, UNM Chairman Nika Melia should be the single opposition candidate in the Tbilisi mayoral elections this autumn, though the final decision would be made after broader discussions.
"It is too early to speak today, but my personal position is that Nika Melia would be the best mayoral candidate in Tbilisi because he is a politician having the strength to defeat any Georgian Dream's candidate of the Georgian Dream," Zaal Udumashvili said.
Member of Girchi Iago Khvichia believes that the opposition spectrum has spoiled the relations inside, and uniting around a single mayoral candidate is unnatural and hardly imaginable. Iago Khvichia noted the unity of the opposition is not the strength of the opposition.
Giorgi Vashadze, leader of the Strategy Aghmashenebeli party, refused to seriously comment on whether he would support Nika Melia's nomination as a single oppositional mayoral candidate.
Member of the European Georgia party Giga Bokeria stressed that the opposition has to concentrate on the current situation, ways to achieve early elections, the path to the local elections. He says starting and completing the coordination process is crucial.
"Agreeing on a single candidate is not enough, the agreement and coordination should relate to the whole range of issues and the plan for the key areas. Obviously, Nika Melia will be the main figure of this pre-election period," Bokeria said.
Georgian Dream MP Beka Davituliani said no matter whether the opposition has Nika Melia as a single candidate or nominate different figures separately, the ruling party is preparing to win the local elections.
At the same time, Anri Okhanashvili, the Chairman of the Legal Issues Committee of the Georgian Parliament, believes GD candidate will obtain the guaranteed victory of the self-government elections if Nika Melia is the Tbilisi mayoral candidate.
Chairman of the United National Movement Nika Melia was released from the pre-trial detention at the Rustavi prison on May 10 after Tbilisi City Court satisfied a motion by prosecutors to substitute the restrained with the release on bail.