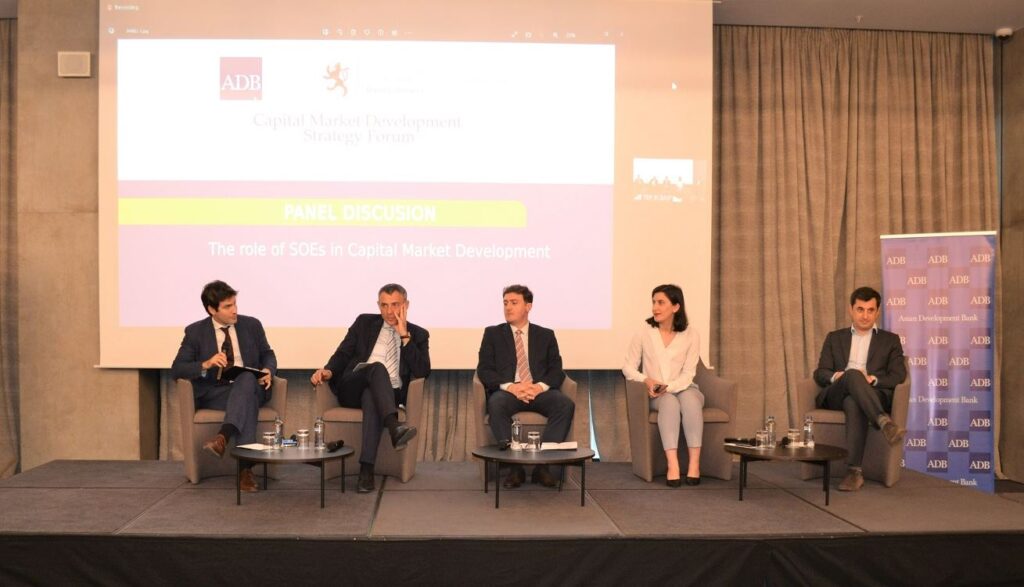 Government presents ADB-supported Georgia's Capital Market Development Strategy
The Asian Development Bank (ADB), in collaboration with the Grand Duchy of Luxembourg, hosted a forum to discuss capital market development in Georgia.
The half-day event brought together more than 80 senior representatives including from the government, think tanks, international and private sector organizations, to explore opportunities and challenges in Georgia's capital markets, share knowledge and foster dialogue.
With technical assistance from ADB, the Government of Georgia adopted a Capital Market Development Strategy that will serve as a guide for the coordinated and consistent development of the country's capital market. The strategy also provides a crucial platform for the development partners to coordinate their future support for the country's capital market development.
Giorgi Gurgenidze, Head of Capital Market Development and Pension Reform Department at the Georgian Ministry of Economy and Sustainable Development presented the strategy. Two panel discussions explored the role of state-owned enterprises (SOEs) in capital market development and sustainable finance in Georgia. Panelists, including from the Georgian central bank, discussed how SOEs can participate in domestic capital markets, including by issuing debt and equity, and listing on the Georgian stock exchange. The experts also discussed the potential for sustainable finance to support Georgia's environmental and social development objectives.
"We are pleased to continue supporting the government's efforts to deepen local capital markets, enhance market efficiency, mobilize investment opportunities, and promote sustainable economic growth," said Kamel Bouhmad, Officer-in-Charge, ADB Georgia Resident Mission. "By leveraging our technical expertise, financial resources, and international network, we aim to continue to be a key partner for Georgia as it endeavors to strengthen its capital market."
ADB has supported Georgia's fiscal resilience since 2008 through its programs for strengthening domestic resource mobilization, development of public-private partnerships, support to fiscal resilience and social protection reform, COVID-19 vaccine support, among others. Georgia joined ADB in 2007 and the bank has since become one of the country's largest multilateral development partners with committed loans exceeding $3.9 billion and technical assistance projects worth $28.9 million. ADB's development priorities in Georgia include expanding trade, creating jobs, and combating poverty by developing economic corridors. ADB is committed to achieving a prosperous, inclusive, resilient, and sustainable Asia and the Pacific, while sustaining its efforts to eradicate extreme poverty. Established in 1966, it is owned by 68 members—49 from the region.