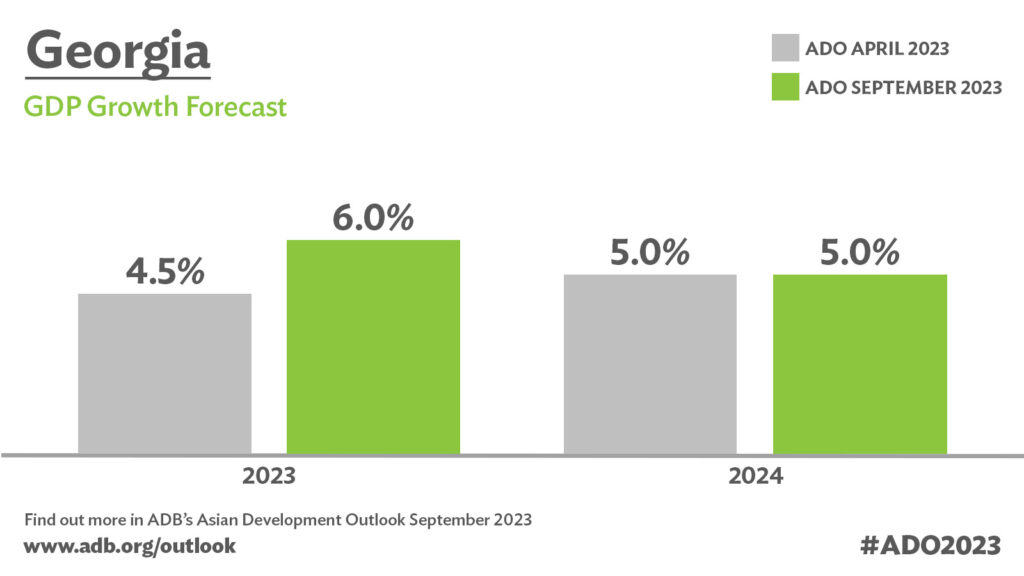 ADB Sees Strong Growth for Georgia in 2023
High foreign direct investment and lower unemployment have supported strong growth for the Georgian economy, prompting the Asian Development Bank (ADB) to raise its growth forecast to 6% for 2023.
According to the Asian Development Outlook (ADO) September 2023, an update to ADB's flagship economic publication, Georgia's real gross domestic product (GDP) is projected to grow 6% in 2023, higher than the bank's April forecast of 4.5%. The growth will moderate slightly to 5% in 2024, in light of an expected return to growth potential and possible fallout from slowing global expansion.
"The encouraging growth curve and significantly lowered inflation show that Georgia's economy has been steadily overcoming obstacles caused by the COVID-19 pandemic and geopolitical events of the past few years," said Officer-in-Charge of ADB's Georgia Resident Mission Kamel Bouhmad. "Georgia could further benefit from developing policies for more climate-resilient growth and supporting the development of climate-smart solutions in infrastructure, business, and agriculture."
According to the report, Georgia has experienced strong growth in construction at 15.1% and services at 10.2%. The growth in services is mainly due to an increase of 14.0% in wholesale and retail trade, 15.7% in accommodation and food services, 44.2% in information and communication, and 17.2% in arts, entertainment, and recreation, mostly due to a recovery in tourism.
Inflation is now projected to decline further to 3% in 2023 from an earlier forecast of 6% in April, following a relatively stable Georgian lari and strong macroeconomic policies. A small budget surplus in the first half of 2023 reflected strong revenue and ongoing fiscal consolidation. Public sector debt remained low, equal to 39.8% of GDP, as strong economic growth and a relatively stable lari boosted GDP.
The current account deficit narrowed sharply from the equivalent of 13.5% of GDP in the first quarter of 2022 to 3.2% a year later. This reflected soaring money transfers and higher service surpluses from travel and information and communication technology. Following a record high in 2022, money transfer inflows in the first 7 months of 2023 increased at an annual rate of 27.5% to $2.7 billion, with nearly half of it coming from the Russian Federation.
ADB is committed to achieving a prosperous, inclusive, resilient, and sustainable Asia and the Pacific, while sustaining its efforts to eradicate extreme poverty. Established in 1966, it is owned by 68 members—49 from the region.