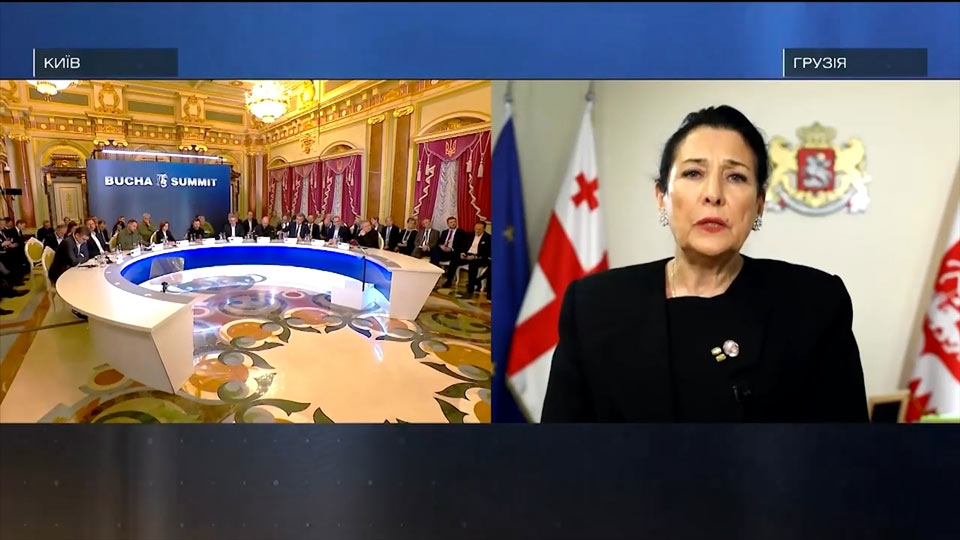 Georgian President hopes peace will be established soon in Ukraine
"I am sure that they did not die in Bucha for no reason, and with the victory of Ukraine and the Ukrainian people, peace will soon be established," said Georgian President Salome Zourabichvili addressing Presidents of Ukraine and Moldova, Prime Ministers of Slovakia, Slovenia and Croatia at the summit on the anniversary of Bucha's liberation.
The summit – "Bucha – Russia's responsibility for the crimes committed in Ukraine" was held in a hybrid format where President Zourabichvili made a video address.
Salome Zourabichvilis said that the strength and courage of Ukraine in face of the aggression and cruelty was "remarkable." She stressed that in her annual report delivered in the Georgian parliament on March 31, the lawmakers observed a minute of silence in honoring victims of "this shameful page of world civilization and European history."
"One year passed since the world was shocked by the photo and video footage taken in Bucha, which demonstrated the brutality of Russian aggressors against Ukrainian civilians. It was a horrifying realization and a reminder to each of us of the atrocities and crimes against humanity committed by an uncontrolled military force with impunity and no sense of international order and sanctity of human life.
Dear community, these photos shocked the world and we, in Georgia, were worried and shocked, once again we were reminded of the direct aggression carried out by Russia against our territory, independence and statehood.
If the response of the international community and their understanding of the real essence of the Russian regime had been stronger, the reoccurrence of aggression in Crimea and direct violation of international principles by direct annexation could have been avoided. Then, February 24, 2022 might have been an ordinary day for peaceful Ukrainian citizens and maybe Bucha wouldn't have happened.
However, the reality is different – the impunity enjoyed by Russia has allowed it to establish the use of military means as a common tactic against its neighbors. Russia continues to occupy 20% of Georgia, which creates humanitarian problems every day. That is why all Georgians understand the pain and suffering experienced by Ukrainians and express unwavering solidarity with Ukraine.
Respected public, doubts and hesitations have disappeared today, the international community understands that democracy and freedom are at stake and the choice is for civilization: between the dictatorial and dangerous rule of Russia (which employs private mercenaries to wage its aggressive war) and our collective efforts to live a free, peaceful, democratic and to build a prosperous future.
Our unity, now and every day, against aggression, cruelty, injustice, the blatant disregard for human life and international principles is stronger than ever.
President Zelenskyy, I thank you for the Global Peace Summit, because the only way to achieve our true, ultimate goal is to respect our territories, sovereignty and freedom. Only such a world can be a world of peace in which Russia renounces its imperialist aspirations and agrees to become a state that, like others, has and recognizes its own borders and those of its neighbors.
President Zelenskyy, on behalf of the Georgian people, let me once again express our solidarity, wish you courage and unwavering determination in the fight for the future of your country and Europe. I am sure that they did not die in Bucha for no reason, and with the victory of Ukraine and the Ukrainian people, peace will soon be established!" Zourabichvili said.