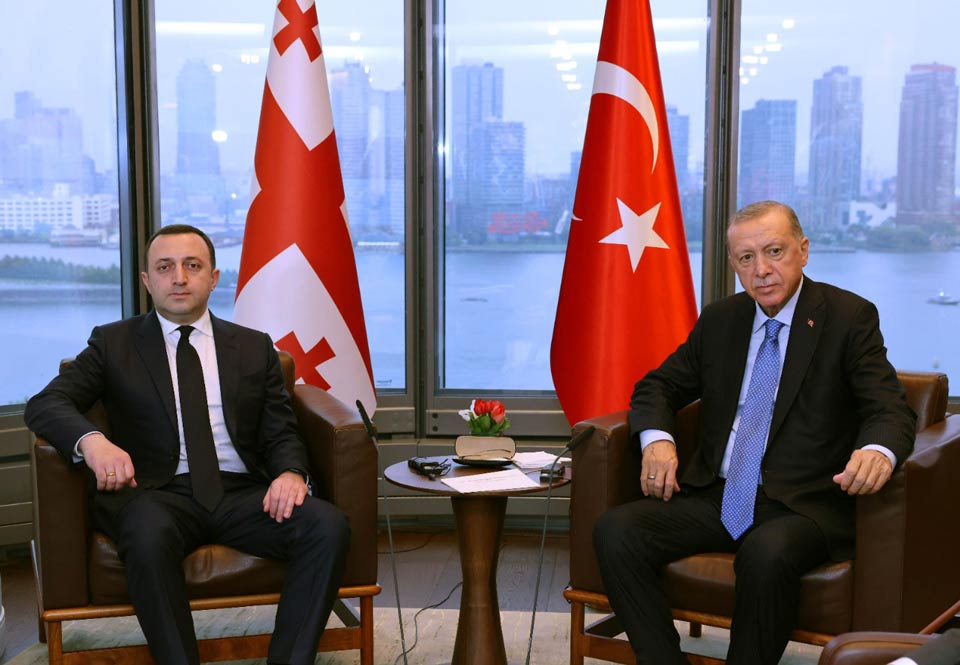 Georgian PM meets Turkish President
The strategic partnership between Georgia and the Republic of Turkey, trade and economic relations and the security environment in the world and the Caucasus region were the main issues discussed in the meeting between Georgian Prime Minister Irakli Garibashvili and President of Turkey Recep Tayyip Erdogan.
At the meeting held in New York, the sides emphasized the importance of friendly and partnership relations between the two countries within the framework of the UN General Assembly.
Georgian PM and Turkish President noted the significant results of Georgia-Turkey strategic partnership, the political dynamics of high-level bilateral relations and the involvement and active cooperation of Georgia and Turkey in regional-geostrategic projects.
Among the issues discussed, was the ongoing war in Ukraine and, as a result, the difficult security situation in the world and the region. The importance of peace and stability to ensure the further development and long-term prosperity of the region was emphasized.
In this context, the agreement reached last year between Azerbaijan and Armenia, mediated by Irakli Garibashvili, was accentuated, as a result of which Azerbaijan released Armenian prisoners, and Armenia handed over important maps to Azerbaijan.
Georgian PM and Turkish President noted that the further development of effective cooperation between Georgia and Turkey in all directions is also important for the region's stable and sustainable development. The Prime Minister invited the President of Turkey to Georgia.
Georgian PM echoed the meeting with President of Turkey on Twitter.
"Happy to meet with Recep Tayyip Erdogan discussing matters of bilateral, regional and multilateral agenda between Georgia and Turkey. We are long-time partners & friends, steadfastly committed to further developing the strategic partnership between Turkey and Georgia!" PM tweeted.
Happy to meet w/@RTErdogan discussing matters of bilateral, regional & multilateral agenda between 🇬🇪-🇹🇷. We are long-time partners & friends, steadfastly committed to further developing the strategic partnership between 🇹🇷 & 🇬🇪! pic.twitter.com/RWPiJb4ODJ

— Irakli Garibashvili (@GharibashviliGe) September 19, 2022