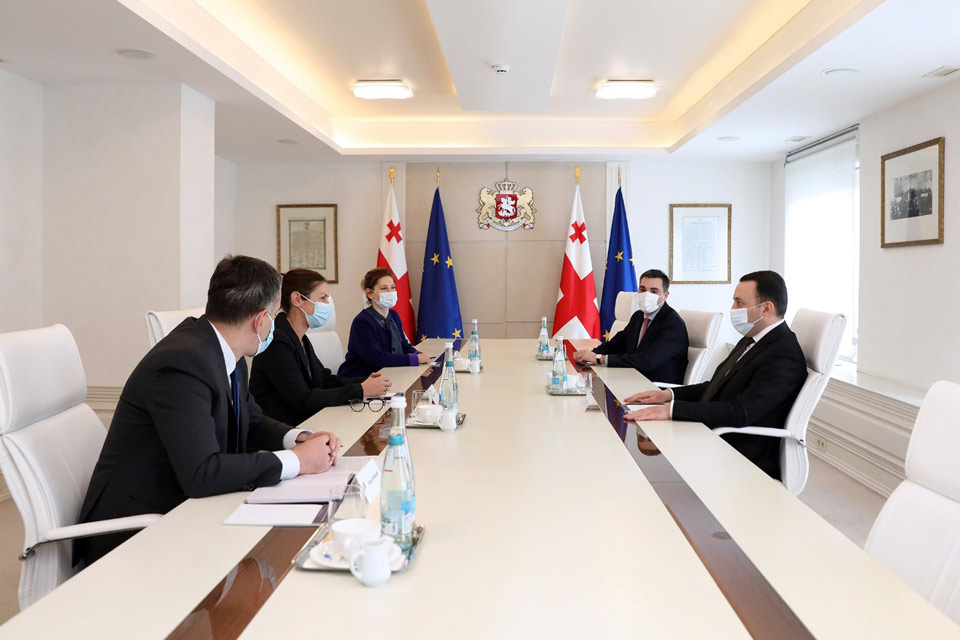 Georgian PM meets EBRD Regional Director
Georgian Prime Minister Irakli Garibashvili met with Catarina Bjorlin Hansen, the European Bank for Reconstruction and Development (EBRD) Regional Director for the Caucasus on Thursday.
Irakli Garibashvili praised the country's successful cooperation with the European Bank for Reconstruction and Development and expressed hope that the EBRD will continue supporting the agenda of Georgia's development through financing projects prioritized by the country, the government's press service reported.
According to the Head of Government, the financial assistance provided by the European Bank for Reconstruction and Development – Georgia's loyal partner – has amounted to 4 billion euro since 1992. The private sector enjoys the lion's share of the EBRD portfolio, resulting in a strong sustainable impact on the country's economy.
The Prime Minister emphasized that Georgia is a country with strong European aspirations, one pursuing the European path of economic transformation, with the EBRD playing an exceptionally critical role on this path.
Irakli Garibashvili and Catarina Bjorlin Hansen discussed ongoing projects and prospects of future cooperation. The European Bank for Reconstruction and Development must play an important role in the post-pandemic period, the parties concluded. Projects in the areas of energy, municipal infrastructure, banking, and agriculture are implemented in Georgia with financing from the European Bank for Reconstruction and Development.
"We had a very fruitful meeting with the Prime Minister today. We discussed what the EBRD did last year in Georgia to help with the crisis. And we also discussed plans to go forward for the EBRD and Georgia, how we can work together to meet all the challenges throughout the country. We also discussed the very important achievements of the Investors Council, which is a very active platform for public-and-private dialogue in Georgia," Catarina Bjorlin Hansen said.