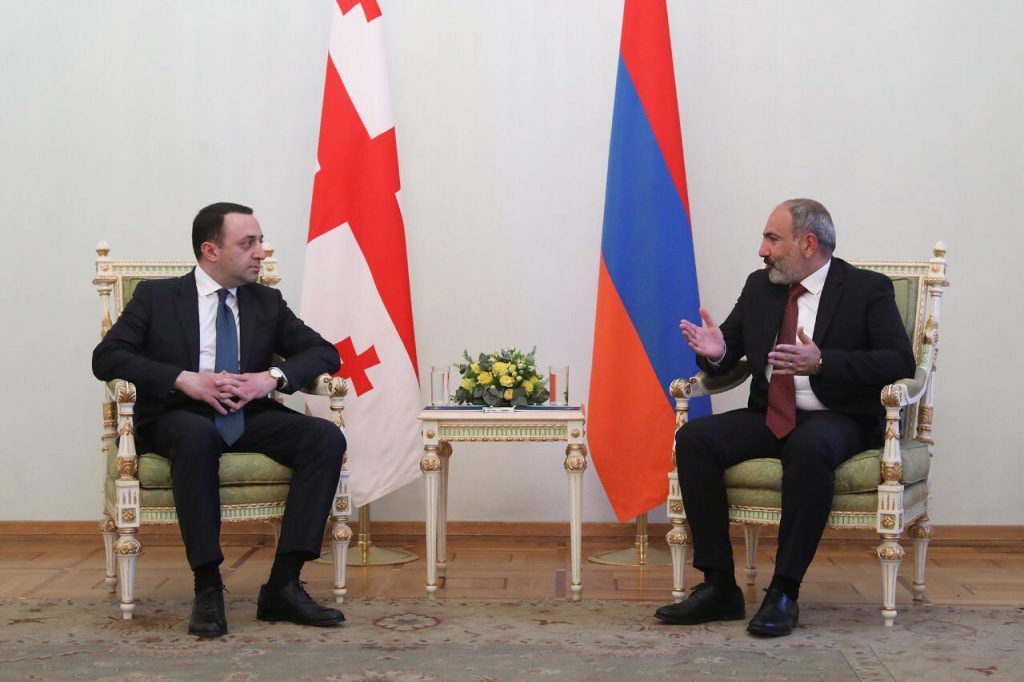 Georgian and Armenian PMs meet in Yerevan
The Prime Minister of Georgia Irakli Garibashvili met with the incumbent Prime Minister of Armenia Nikol Pashinyan within the framework of his official visit to Armenia.
According to the Georgian governmental administration, the face-to-face meeting focused on the relations between the two countries. Talks concentrated on transport communications, energy and road infrastructure. The parties also talked about the cooperation between Georgia and Armenia in trade, economy, transport, logistics and culture spheres.
Nikol Pashinyan stressed that the multilateral political relations between the two countries are based on historical traditions.
"Dear Prime Minister, welcome to the Armenian land. Our high-level meetings have been delayed for a while due to the Covid pandemic. I am pleased we restored the high-level relationship. The agenda of our bilateral relations is broad, starting from transport communications, energy, followed by the road infrastructure. Of course, the fight against coronavirus is one of the most significant issues on our joint agenda.
The political relations of our states are multifaceted and based on the historical traditions of our peoples. We should discuss regional issues, try to harmonise our positions. Of course, we will deepen our ties on humanitarian, educational and cultural issues.
Our states must support each other to ensure the prosperity and development of our countries. I welcome you again, and I am sure that our talks will be fruitful," said Nikol Pashinyan.
Irakli Garibashvili noted that the relations between the two countries are based both on neighbourly and very close friendly relations.
"Prime Minister, thank you very much for your hospitality. It is a great honour for me to meet with you. You mentioned the Covid-19 pandemic, which, of course, affected every country, every people and every relationship.
Nevertheless, it is a great honour for me to visit Yerevan. There is a very close friendship between our people, not just neighbourhood relationships. We have a centuries-old relationship and friendship. Therefore, we are interested in peace, stability, and development in Armenia and the whole region.
Our agenda is versatile and complex. We need to discuss the further development of trade and economic relations, our cultural relations, cooperation in transport, logistics fields.
These issues will bring us even closer to each other in a regional prism. It is a great honour for me to visit you," Irakli Garibashvili said.
The expanded talks with the participation of the Georgian and Armenian Cabinets followed the face-to-face meeting.
Georgian Prime Minister Irakli Garibashvili is paying an official visit to Armenia on May 12.