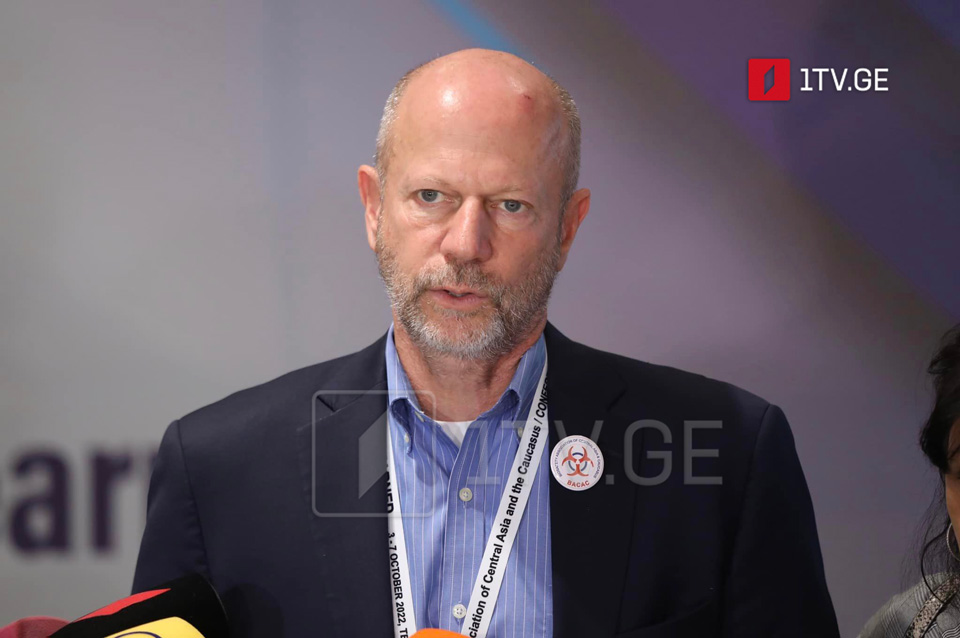 Andrew Weber praises Georgia for opening its doors to Russians trying to avoid war
I applaud Georgia for opening its doors to refugees fleeing a corrupt system, said Andrew Weber, the former United States assistant secretary of defence, who is in Tbilisi for the Biosafety Regional Conference.
"I would like to say that so wonderful to be in Georgia, and see how much progress has been made with the Lugar Center. Georgia has become a regional and global leader in biosecurity. So I'm very proud of what's been achieved here, the transparency that the Lugar Center has shown," he said.
When asked about the challenges, Weber stated that the prevention of biological threats is the top concern.
"We maintain a high priority on preventing biological threats, whether there are naturally occurring, accidental or deliberate use of biological weapons, which is very real with the war ongoing in Ukraine, and Putin threatening nuclear weapons and the possible use of other weapons of destruction, including biological weapons. We need to keep our investment and resources at the highest level ever to make that the last pandemic," he declared.
When asked how real Vladimir Putin's threat is and what should be done in response, Andrew Weber answered "response should be exactly what Georgia is doing".
"The Russian lies were coming out from the highest levels, from President Putin himself. His crazy address last week, these accusations are not new. These are lies. President Putin mentioned in his speech the Nazi propagandist Joseph Goebbels. Putin has his own Goebbels – NCB defence forces – the lead propagandist, spreading lies. The response should be exactly what Georgia is doing, to be off-front and be proud of what we have achieved together with the international community, strengthen healthcare and protect our population against threats," Weber stated.
According to him, now Georgia stands in a strong strategic position.
"We look at the terrible performance of the Russian military in the war in Ukraine. The weakness of the Russian military has surprised a lot of people, there is corruption and incompetence, and I think it puts Georgia in a stronger position," the former US official added.
He praised Georgia's decision to open doors to Russians fleeing the war in Ukraine.
"We've seen that hundreds of thousands of Russian men are trying to avoid this disgraceful, unprovoked attack on Ukraine. They come to Georgia and Kazakhstan. I applaud Georgia for opening its doors to these refugees of a corrupt system. They don't want to fight against their Ukrainian brothers in this terrible war," Weber noted.
According to him, Russian propaganda regarding the Lugar laboratory started 15 years ago.
"I think the reason is that maybe they are planning to use biological weapons or other weapons of mass destruction in Ukraine. Another reason is to justify the war to the Russian public. But these lies are not new," said Andrew Weber.