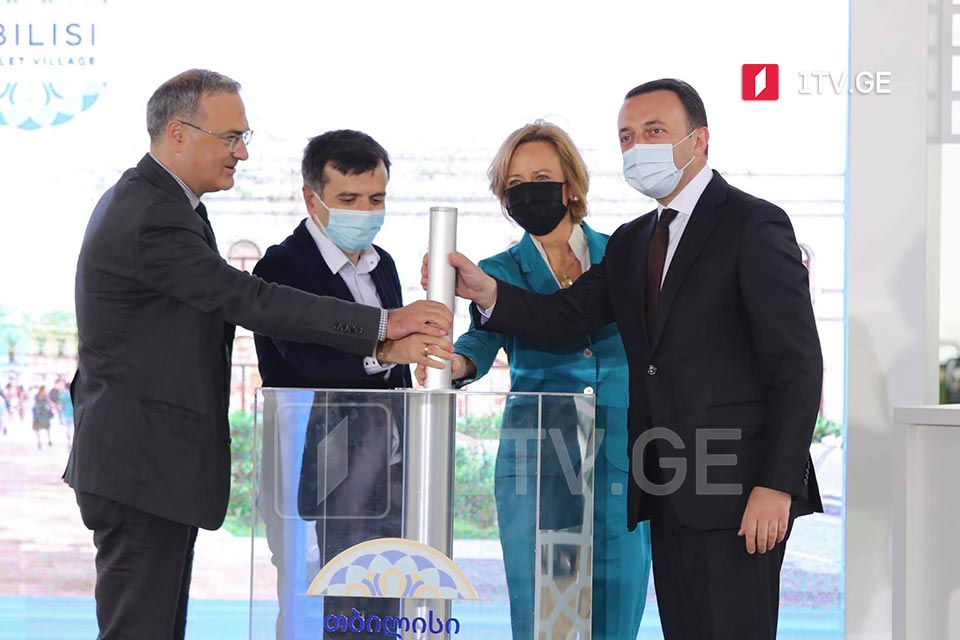 First Outlet Village to open in Georgia, PM says
The first outlet village in Georgia will open to serve both Georgian citizens and millions of our country's visitors in a year. Georgian Prime Minister Irakli Garibashvili stated in his speech at today's presentation of the Outlet Village project's presentation, as part of which he, together with the project's investors and partners, buried a symbolic time capsule marking the launch of construction.
According to the PM's press service, Garibashvili emphasized the enormous importance of this project, valued at about GEL 70 million and implemented by Domus.
"We are talking about GEL 70 million in foreign direct investments. We are also excited to see that, after opening, this Outlet Village will employ 2,000 people. Also, 500 people will be employed in the process. We are happy to have a Spanish company involved in the project's design. This company has designed Outlet Villages in Madrid and Barcelona. It is also exciting to have our new trade space managed by an American-European outlet management company. The Government pays enormous attention to tourism development as one of our key priority directions. As you know, more than 9 million tourists visited the country in 2019. Needless to say, the pandemic has undermined the tourism sector, among others, though we are quite optimistic because the economy is recovering very fast. This year, we have already had a million tourists in Georgia. We have succeeded in recovering the economy in a very short period. We have a 12% growth, and the signals and messages coming from business are very promising," the Prime Minister said.
In 2022, Georgian Outlet Village and Resort Group will complete the initial phase of construction of the Outlet Village stretching on 10 hectares of land.