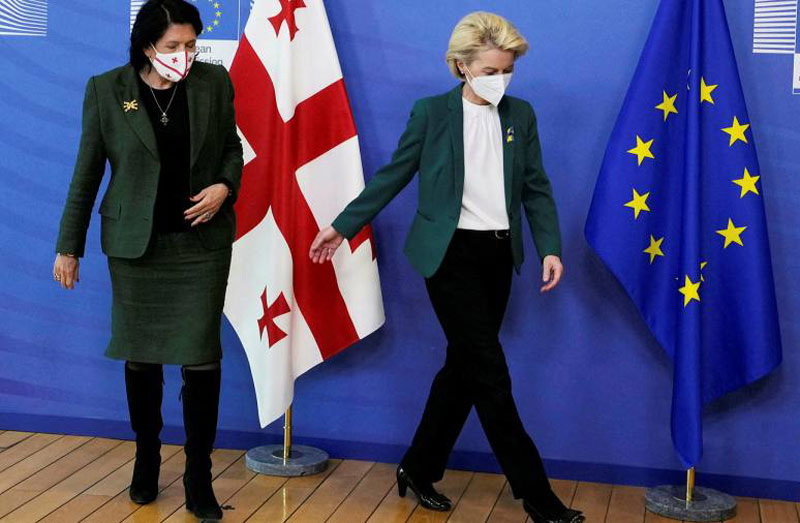 EU can still save Georgia from Russian aggression, President Zourabichvili says
In an interview with the Financial Times, Georgian President Salome Zourabichvili said, the EU must accelerate steps to admit Georgia into the bloc to protect it from Russia. She noted that Russia's invasion of Ukraine had created "a window of opportunity" for the EU to embrace nations in its neighbourhood who aspire to be a part of the union.
"We do not need to give [Russia] the idea that there are soft spots defended by no one. [The EU] must find a way to answer our long wait . . . Give a sense that we are part of the family. Former Soviet states Georgia, Moldova and Ukraine have all declared their intention to become members of the EU, are members of the bloc's Eastern Partnership initiative and have association agreements with it, covering trade ties and integration issues," she told the Financial Times.
"Ukraine is fighting the fight for all of us," Zourabichvili said, adding that Kyiv's long wait for possible EU membership partly facilitated Putin's attack. "In a way the Ukrainian situation [has arisen] because this perspective was so far off, because [membership] was not materialising."
Zourabichvili said she welcomed the emergence of a "strong Europe" in the wake of Putin's invasion, with the EU adopting severe sanctions against Moscow and agreeing to supply arms to Kyiv and with Germany pledging to bolster its defence spending.
She noted that the EU failed to show the same resolve after the 2008 war with Georgia or the 2014 annexation of Crimea.
"Probably the lack of these reactions made Putin what he has become," she said. "There was always this idea before that if you were trying to comfort the Russian leadership, not confront them, try to find with them some form of accommodation, that would win them around . . . And it has never worked," she said. "And now we have the realisation."
EU can still save Georgia from Russian aggression, says president https://t.co/4pJ7CDlhq6

— FT World News (@ftworldnews) March 2, 2022