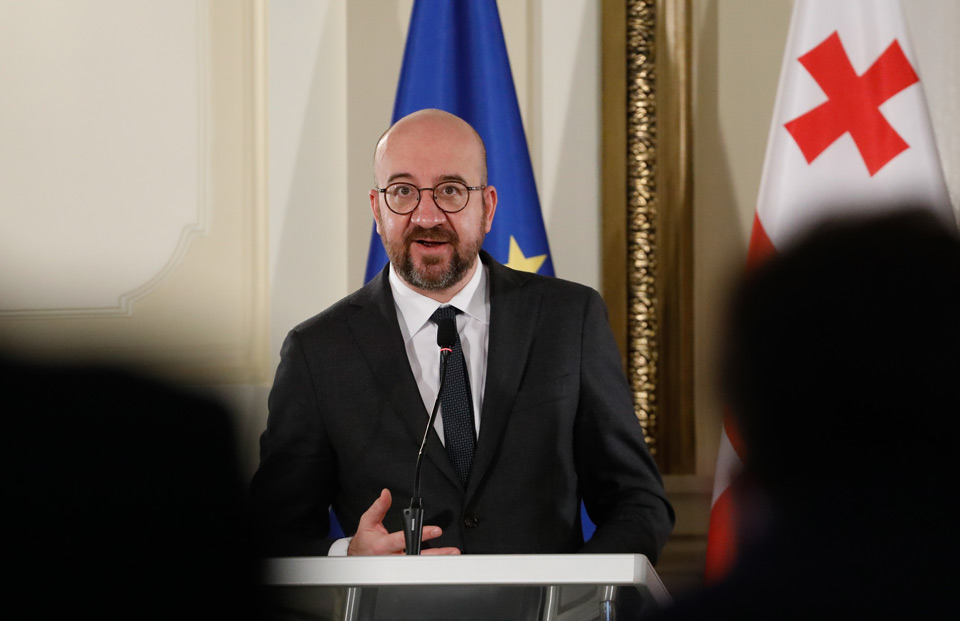 EU calls on all parties to neutralize stalemate
The European Union calls on all parties to work intensively to neutralize the political situation, European Council President Charles Michel said after the meeting with Georgian President Salome Zourabichvili.
"My visit comes against the background of an aggravated political crisis. That, of course, worries the EU and me personally. The EU calls on all parties to work intensively to neutralize the situation.
I will have an opportunity to have a frank and open conversation with the Prime Minister, the Speaker of Parliament, and the opposition parties' leaders later today. I know that political debate requires leadership and the involvement of all parties. I am convinced that Georgia has every opportunity to take on this challenge. It can consolidate democratic bases not only in the European Union but also to protect human rights, fulfill citizens' choices, create political stability based on open democracy, independent and representative judiciary. That will strengthen relations between Georgia and the European Union. The Association Agreement reflects these very ambitious goals. It demonstrates the commitments of the European side and Georgia," said Charles Michel.
President of the European Council Charles Michel will hold official meetings today during his visit to Georgia. Charles Michel held the first meeting with the President of Georgia Salome Zourabichvili at the Orbeliani Palace. He also plans to meet the PM, Parliament Speaker, and the leaders of political parties.
The President of the European Council will visit the occupation line near the village of Khurvaleti, attend the inauguration of the new EU office in Georgia and inspect the EU-funded project. Charles Michel will leave Georgia on March 2.