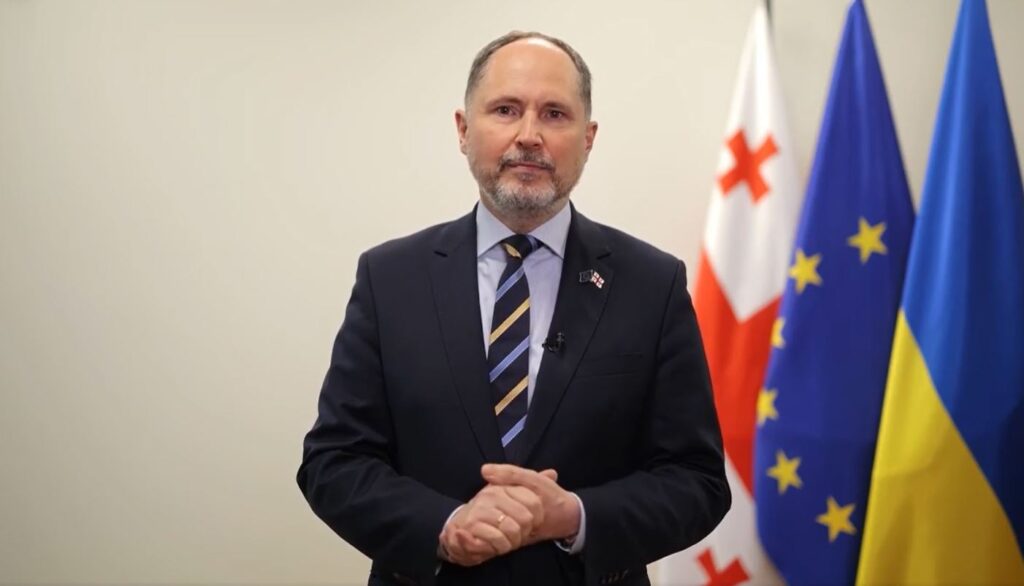 EU Ambassador: Ukraine fights for values Europe is built on
EU Ambassador to Georgia Pawel Herczynski remarked on the one-year anniversary of Russia's full-scale aggression against Ukraine.
"It has been one year since Russia launched its unprovoked and unjustified invasion of Ukraine. This ongoing war is an unprecedented violation of fundamental values and principles of international law.
Ukraine was attacked because it wanted to decide about its future by itself, not with dictate from Moscow.

According to the UN Charter, as a victim of aggression, Ukraine has the inherent right to defend itself.

The EU remains resolute, united and determined in our support to Ukraine on all fronts: humanitarian, economic, political, diplomatic and military.

This is not just an aggression against Ukraine, a sovereign country, but aggression against democracy worldwide. This is a threat to all countries, because what is at stake is their independence and sovereignty to make choices based on their own decisions.

The EU is working towards the widest possible international condemnation and isolation of Russia by the international community.
Our unity with like-minded international partners has been unwavering and we are taking unprecedented actions together.

Georgia has been actively participating in these efforts. Six United Nations General Assembly resolutions confirm the international condemnation and isolation of Russia.

The EU's support for Ukraine will not diminish the attention to other partners. On the contrary, unequivocal and resolute response to Russia's war in Ukraine must be maintained to hold the aggressor accountable.

Georgia's close cooperation with the EU, based on shared understanding of our common European values is a solid foundation to build an ever stronger EU-Georgia relationship. The EU has given a clear European perspective to Georgia, with concrete steps to receive EU candidate status. This process is merit-based and reform driven.

At the same time, Russian and other disinformation actors seek to manipulate the information space to echo pro-Kremlin narratives and propaganda, obstruct integration, sow divisions and diminish solidarity. We need to be vigilant, strengthen our resilience and cooperate closely to counter these malicious activities.

Ukraine is fighting for values the Europe is built on. Ukraine's fight is our fight. Ukraine must prevail. Glory to Ukraine!," EU Ambassador said.
Today marks the one-year anniversary of the Russian invasion of Ukraine.