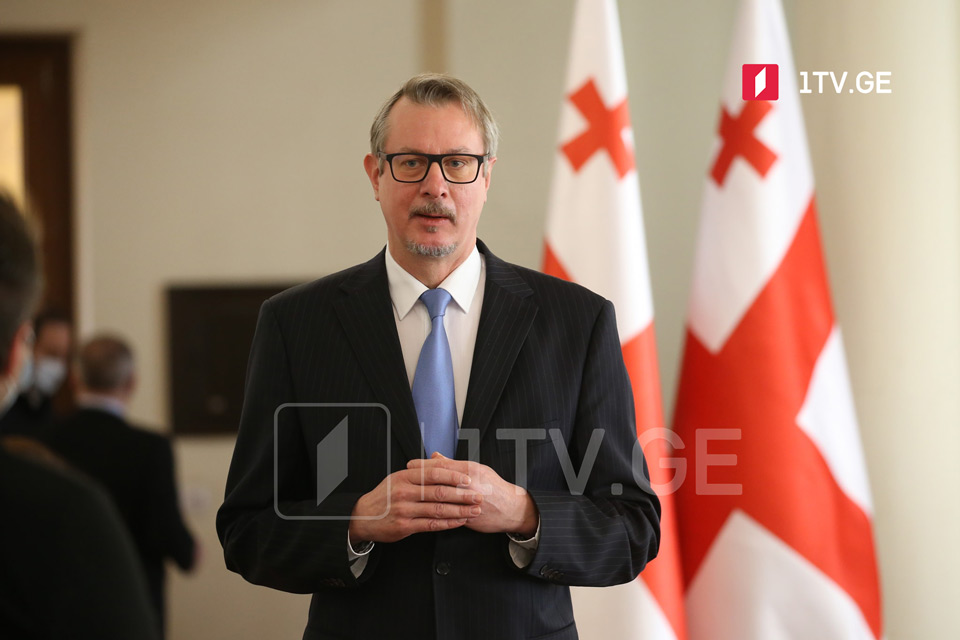 EU Ambassador invites elected MPs to sign EU-mediated agreement at the EU Delegation from 9 am on Tuesday
EU Ambassador to Georgia Carl Hartzell appealed to the elected members of Parliament and invited them to sign the European Council President Charles Michel's agreement at the EU Delegation on April 20 at 9 am.
"To all elected Members of Parliament of Georgia: you are invited to sign the agreement at the EU Delegation tomorrow (Tuesday) from 9 am. Thank you very much!" Hartzell tweeted.
The Georgian political parties signed A way ahead for Georgia, a compromise document submitted to the parties by the European Council President Charles Michel, at the Orbeliani Palace on April 19.
Davit Bakradze, Aleko Elisashvili, Badri Japaridze, Zurab Japaridze, Mamuka Khazaradze, Vakhtang Megrelishvili, Shalva Papuashvili, Salome Samadashvili, Khatuna Samnidze, Archil Talakvadze, and Giorgi Vashadze have signed the document.
Khatuna Samnidze, Davit Bakradze and Salome Samadashvili have made signatures individually, as the bloc National Movement – Strength in Unity and the European Georgia party did not join the compromise paper.
The EU and US Ambassadors Carl Hartzell and Kelly Degnan attended the signing ceremony. European Council President Charles Michel joined the event virtually.
President Michel presented a new document to the political parties on April 18. According to a new document, if the ruling party wins less than 43 per cent of electoral support in local polls, early parliamentary elections will be called in 2022.
According to Charles Michel's document, the parties must discuss two cases perceived as politicized within a week after the agreement signed.
To all elected Members of Parliament of Georgia: you are invited to sign the agreement at the EU Delegation, tomorrow (Tuesday) from 9am.
Didi Madloba! pic.twitter.com/ukMlikIdtC

— Carl Hartzell (@CarlHartzellEU) April 19, 2021