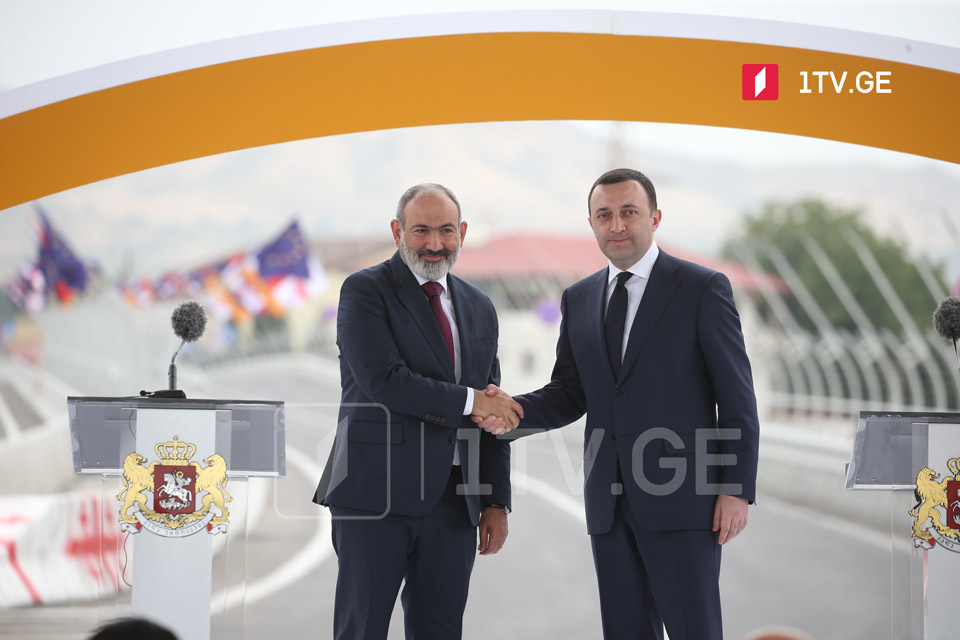 A new bridge opened at Debeda River, Georgia-Armenia border
A new motorway bridge opened at Sadakhlo-Bagratasheni checkpoint across the Debeda River, Georgia-Armenia state border. Starting today, the bridge will serve both Georgian and Armenian citizens.
Georgian and Armenian Prime Ministers Irakli Garibashvili and Nikol Pashinyan attended the official opening ceremony.
The Georgian and Armenian government built the bridge jointly with the financial support of the European Bank for Reconstruction and Development (EBRD).  The EBRD allocated 7.4 million Euros. The Roads Department of the Ministry of Regional Development and Infrastructure headed the construction on Georgia's part.
The new 4-line bridge is 160 meters long. It will improve the road safety and transits between the two countries, facilitate tourists' movement and development of trade-economic relations.
Tunnel Sadd Ariana, JV of Soosung Engineering Co., Ltd and Korea Consultants International Co. Ltd participated in the implementation of the project.
"Friendship between our countries is measured by many centuries. Our relationship is not only an example of brotherhood and friendship, but it is an important prerequisite for the prosperity, stability, security and development of the entire region. The bridge of friendship, which we built together, embodies the success of our cooperation and friendship," said Prime Minister Irakli Garibashvili in his speech at the official opening ceremony.
According to the Armenian PM, the priority of bilateral cooperation in the transport sector provides an opportunity to take real steps not only in the Caspian-Black Sea transport corridor, but also in other key initiatives to ensure the connectivity of the transport sector. "I hope that by combining our agreements, with active work, we will interest already interested parties in the regional cooperation," Nikol Pashinyan said.