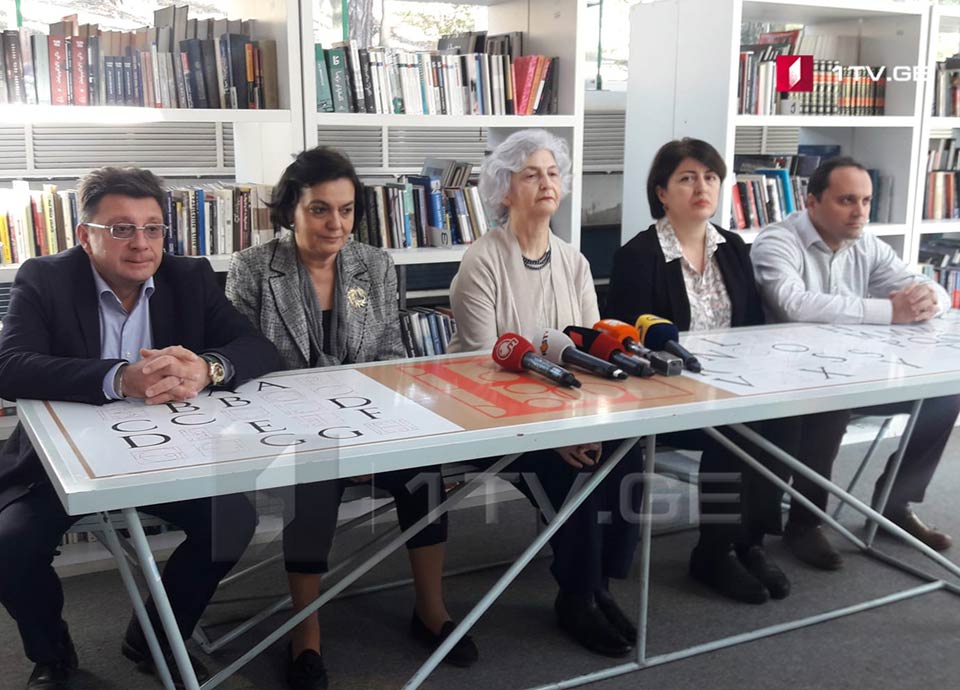 Psychologists and psychiatrists address society to refrain from using desperate phrases
Psychologists and psychiatrists address society to refrain from using desperate phrases. As they stressed at today`s briefing, desperate phrases are being replicated and we do not ponder how teens react to it.
'People are showing Luka Siradze`s desperate spray-painting on the school wall over and over again. We have to think about what this emotion will bring to other teens who are very reactive.

We should consider changing this vicious circle when young people kill themselves and kill each other. Children worry about an irrespective attitude towards them. They want recognition.

Instead of blaming each other, we should start talking about preventive measures. This problem needs a systematic approach. Psychological services and social workers are needed.

The media has a role in this process too. The morning starts with news on violent crimes.

We urge everyone not to use desperate phrases,' psychologist Tamar Gagoshidze stated.
David Zurabishvili, a child psychiatrist added that the child is on the verge of suicide when he/she is in a deadlock, feels alone and sees the wall.
'The only thing that can help a child is talking. She/he should talk to somebody.

When we see pensive children, do not be shy, hug them, caress them, this is the only way out of the difficult situation.

If this kid hadn't been alone, we would have avoided this tragedy,' David Zurabishvili said.
UNICEF Georgia has called on the authorities to ensure children's rights in the juvenile justice system earlier this week. UNICEF stressed that the juvenile justice system should protect the dignity of every child who become in contact with the law, with full respect to age and gender appropriate needs.
In order to fully apply the child-friendly justice approach, it is essential to:
Create special units or designate specialized professionals who will be working only on children's cases in the police system and in all agencies involved in the administration of Juvenile Justice. Specialized professionals should be selected carefully, trained, monitored and supervised regularly.
Familiarize and sensitize mid-level management on child rights to assist professionals in applying the child-friendly approach.
Provide all child witnesses of crime with legal assistance at any stage of contact with the justice system,' UNICEF stated.
On December 18, Georgian PM stated that severe punishment will be imposed on everyone, regardless of rank or office, implicated in any offense by the State Inspector's Service. Giorgi Gakharia gave following instructions to the ministries:
We all, society as a whole, are responsible to Luka Siradze and his family for minimizing long-standing systemic gaps. Therefore, I instruct:
The Interior Ministry to take immediate action in order to put in place an investigative environment suitable for adolescents, ensure the relevant specialization and scrupulous criteria-based selection of detectives and managers working with adolescents, and to carry out their ongoing retraining and monitoring.
The Ministries of Health and Education immediately to define a concrete timetable and plan for eliminating systemic gaps, and to present it within a week.
The Ministry of Justice to produce a legislative vision of possibilities for providing additional guarantees for the protection of the rights of children in relation to the state, Georgian PM stressed.
Ministry of Internal Affairs of Georgia says it continues active cooperation with the office of the State Inspector to establish objective reality concerning all individuals linked to the criminal case.
Didube-Chugureti police district investigator Mariana Choloiani, arrested in connection with the suicide of Luka Siradze, has been charged for forcing him to plead guilty.
Regarding the tragic death of Luka Siradze, President of Georgia Salome Zurabishvili canceled all festive activities planned for today at Orbeliani Presidential Palace. The receptions for public groups will be held in the format of meetings.
Luka Siradze, a 15-year-old teenager, who tried to commit suicide after alleged pressure from police officers, died on December 17 in Iashvili Children's Central Hospital.