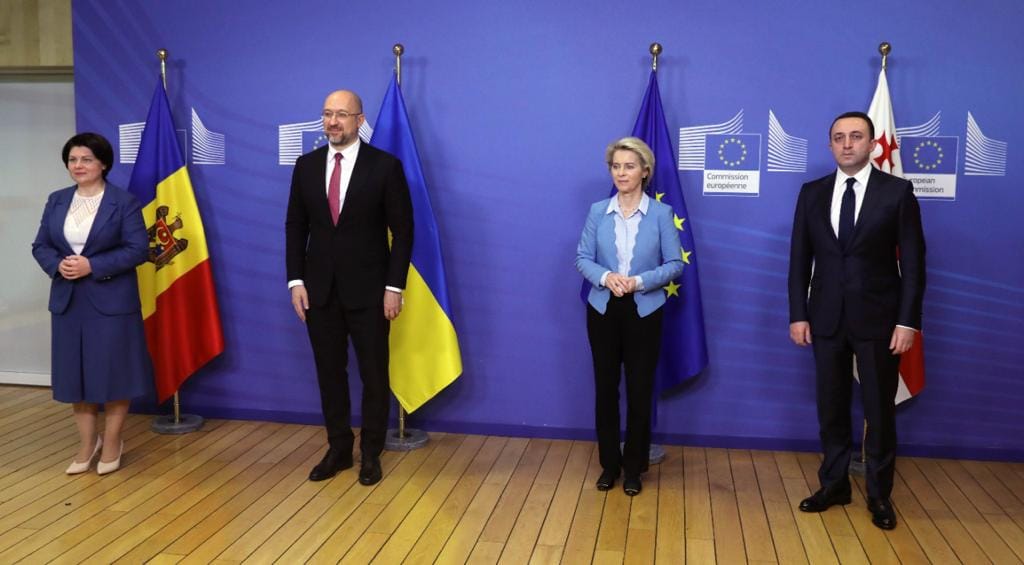 PMs of Georgia, Ukraine, Moldova meet European Commission President
Today, Georgian Prime Minister Irakli Garibashvili, together with Ukrainian and Moldovan counterparts, Denys Shmyhal, and Natalia Gavrilița, met with European Commission President Ursula von der Leyen.
Irakli Garibashvili, Denys Shmyhal, and Natalia Gavrilița emphasized that the visit of the Associated Trio's Prime Ministers seeks to reaffirm commitment to further bolstering the European integration of the three countries, also to summarizing results achieved and planning concrete steps toward greater sectoral integration into the EU.
According to the government's press service, the meeting emphasized that political association with the EU, democratic consolidation, stronger rule of law, and respect for human rights are the key values underpinning European integration, also singling out the DVFTA as one offering the countries unprecedented opportunities for further economic integration into the EU.
Special emphasis was placed on the need to empower transport and communications ties as playing an exceptional role in promoting free trade. The parties underlined the Black Sea's potential in ensuring connectivity with the EU.
One of the topics discussed today involved sectoral integration implying drawing closer various sectoral policies to EU standards and norms, especially in the sectors of environmental protection and climate, digital transformation, transport, and energy. The Associated Trio proposed to the European Commission President to organize regular ministerial meetings between the sectoral institutions of the three countries, with participation from European Commissioners.
The meeting also discussed the declaration of the upcoming Eastern Partnership Summit that, importantly, must reflect the priorities of the Associated Trio. The Prime Ministers expressed confidence that the summit will offer the partner countries new opportunities for gradually accessing the EU market and further integrating into the EU, based on the differentiation and more for more principles, the statement read.
Fruitful meeting w/@vonderleyen on enhancing the engagement of the @EU_Commission to advance the political, econ & sectoral integration of the #AssociatedTrio with the 🇪🇺. Confident that our partnership contributes to building the solid groundwork for our 🇪🇺 integration. pic.twitter.com/k7wqYVzVS3

— Irakli Garibashvili (@GharibashviliGe) November 30, 2021