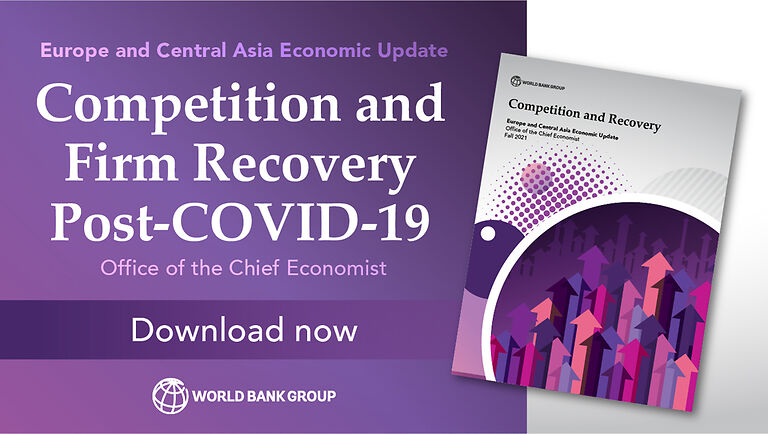 Fast recovery underway in Georgia as strong rebound boosts economies in emerging Europe and Central Asia
A surprisingly strong rebound in the first half of this year boosted economic activity in emerging market and developing countries in the Europe and Central Asia region, with the regional economy now projected to expand by a better-than-expected 5.5 per cent in 2021, says the latest edition of the World Bank's Economic Update for the region, released today.
Among the subregions of Europe and Central Asia, the South Caucasus suffered the sharpest collapse in output in 2020, contracting more than 5 per cent. Output in the South Caucasus, boosted by the recovery in consumption and a strong pick-up in exports, is projected to rebound sharply in 2021, expanding 5.8 per cent, with Georgia leading the region this year with a projected rebound of 8 per cent.
Georgia's recovery is expected to edge down to 5.5 per cent in 2022 and 5 per cent in 2023, as macroeconomic support continues to be removed.
"The South Caucasus countries, and Georgia in particular, are seeing a robust recovery from the shocks of 2020, supported by pick-up in domestic demand and recovery among external partners," said Sebastian Molineus, World Bank Regional Director for the South Caucasus. "However, amid rising inflation and slowly recovering labor market outcomes, increasing the pace of vaccination remains a critical priority. Beyond this, a sustainable recovery will be one that is green, resilient, and inclusive. Reforming State-owned Enterprises, improving human capital, and promoting innovation and digital transformation can improve productivity, while rebuilding economic buffers and preparing for the impact of climate change will make growth resilient."
"In countries with more competitive markets and stronger policies that protect competition, this reallocation towards more productive firms was even greater." As economies enter the economic recovery phase, it will be important for policymakers in all countries to phase out broad policy support measures as soon as appropriate and focus on fostering a competitive business environment which is key to a strong recovery; resilience to future crises; and sustainable, long-term economic growth," said Asli Demirgüç-Kunt, World Bank Chief Economist for Europe and Central Asia.