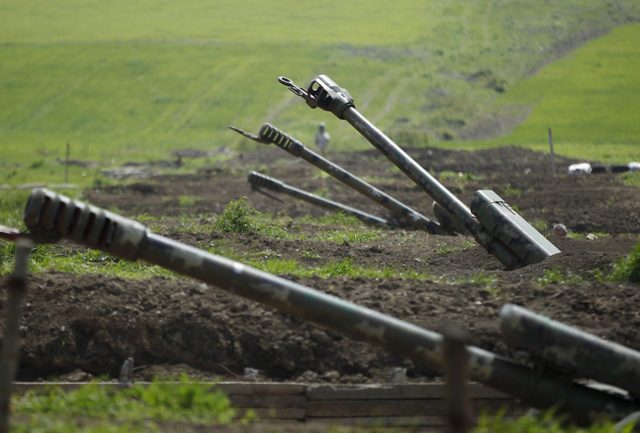 Azerbaijan, Armenia open artillery fire along frontline in Nagorno-Karabakh
"Along the entire length of the Artsakh frontline, there is artillery fire raging on at the moment. Overnight two enemy UAVs were shot in the air of Stepanakert," said the spokesperson for Armenia's Defence Ministry, Shushan Stepanyan.
Shushan Stepanyan noted that "the Azerbaijani Ministry of Defense confuses the number of its own losses one day and rewrites Armenian forces."
Արցախյան ռազմաճակատի ամբողջ երկարությամբ այս պահի դրությամբ հրետանային փոխհրաձգություն է։
Գիշերվա ընթացքում…

Posted by Shushan Stepanyan on Tuesday, September 29, 2020
Azerbaijan Defence Ministry stated that starting from September 27 until this morning, about 2,300 enemy servicemen were killed and wounded, about 130 tanks and other armoured vehicles, more than 200 artillery pieces, multiple launch rocket systems, grenade launchers, about 25 air defence systems, 6 command posts, and command-observation posts, 5 ammunition depots, about 50 anti-tank weapons, 55 vehicles were destroyed and forced out of operation.
"During yesterday's fighting on the territory of Shushakend of Khojaly region, one S-300 anti-aircraft missile system was destroyed. The enemy, who had concentrated additional forces in the Madagiz direction to regain lost positions, attempted to attack in the early morning of September 30. Currently, combat operations are conducted along the entire front," stated the Ministry.
The fighting started three days ago over the disputed Nagorno-Karabakh region.