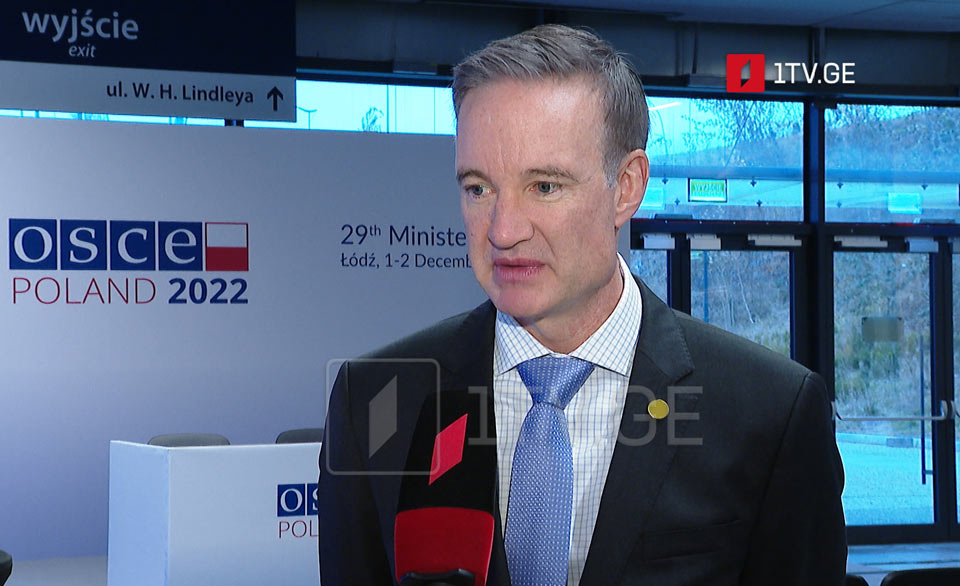 US Ambassador to OSCE names 2008 as element of Putin's imperialistic ambitions
The year 2008 was an element of Putin's imperialistic ambitions that resulted in the occupation of Georgia's 20% of territories, said Michael Carpenter, US Ambassador to the Organization for Security and Cooperation in Europe (OSCE) in Poland.
The ambassador was reminded by a journalist from GPB's First Channel that Russia's aggression against Georgia preceded the war in Ukraine, and that if the international community had reacted more effectively, the events of 2014 in Crimea and the present war may have been prevented.
"I think there was an element – that began in 2008 – of Putin's imperialistic ambitions that unfortunately resulted in 20% of Georgia's territories occupied. I agree with you that the international community's reaction at that time was insufficient and wrong lessons were learnt in the Kremlin. And then in 2014, Putin went to Crimea and the eastern part of Ukraine. There was a more robust reaction, but probably not sufficient. And now we see full-scale brutal war with possible war crimes against humanity on a level we haven't seen since WWII. So there is a trajectory that began with your country-Georgia. Georgia still suffers from occupation, the communities suffer from boundary lines and borderization. That conflict continues although it is not a hot conflict as the case is in Ukraine," he said.
The GPB journalist enquired about the OSCE's message, which is one of the mediators of the Geneva International Discussions (GID), given that Russia violates all international principles.
The Ambassador remarked the GID offers a "valuable" platform to keep these issues "alive on the international agenda." It also provides communication between the Georgian government and de facto authorities to some degree.
"I am convinced that there will come a time when we see the fulfilment of the 2008 ceasefire agreement. I know it seems like a stretch, but look what is happening in Ukraine, how quickly the Russian forces are melting on the battlefield. As a result of that, Russia has engaged in barbarian actions by bombing critical infrastructure in Ukraine. But that war is changing public perceptions of Russia," Michael Carpenter said.
According to the US Ambassador to OSCE, the US will use all the available tools to force Russia to implement the 2008 ceasefire agreement and respect Georgia's territorial integrity and sovereignty.
Elaborating on the question that the US tries to keep Georgia's issue on top of the international agenda, Carpenter said:
"Georgia is an important democratic country, on a strategic crossroad between East and West, Russia's neighbour in the difficult neighbourhood. Georgia uses all diplomatic tools to help spur connectivity in the South Caucasus and beyond. We need to keep Georgia on the agenda, keep helping you develop the direction towards Euro-Atlantic aspirations," he said.