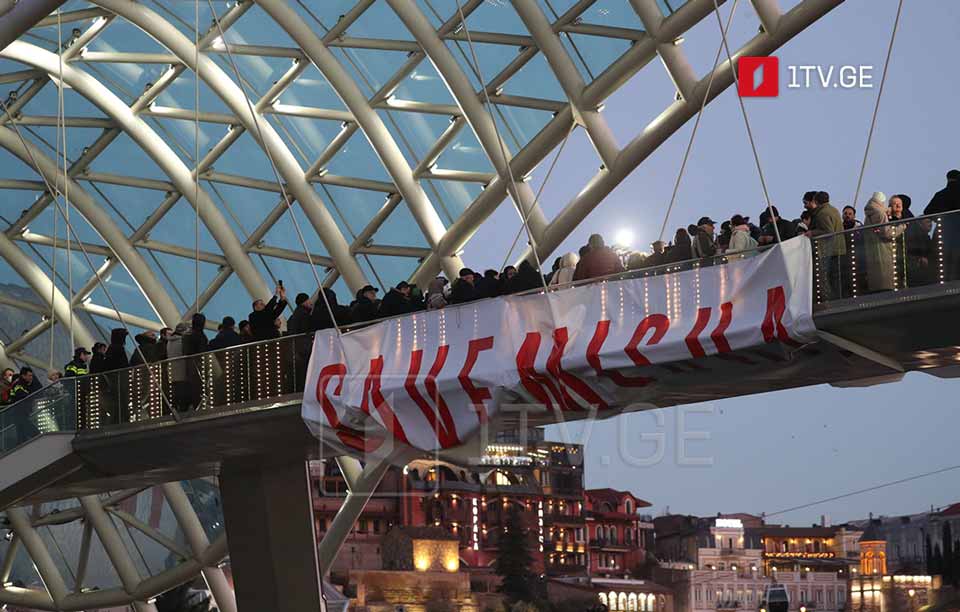 UNM holds Save Misha rallies
The United National Movement (UNM) party and its supporters are holding a solidarity protest for imprisoned former President Mikheil Saakashvili at several locations across Georgia. "Save Misha," is the rally's main slogan.
One of the UNM wings, led by party leadership candidate Levan Khabeishvili, gathered at the Government House, claiming that the party was divided about where and when to hold a rally to support imprisoned ex-President Saakashvili.
"It will be up to the voters to choose what type of UNM they want," Khabeishvili stated.
UNM Chair Nika Melia's father, Anzor Melia, originally attended the protest at the Governmental Administration but then stated that he would join the gathering at the Peace Bridge, which the UNM Political Board chose as the protest location.
Nika Melia, an acting chairperson of the UNM, leads the rally in Zugdidi, Samegrelo region. He stated that it was in the government's best interests to transfer Mikheil Saakashvili overseas for medical treatment to "save Georgia's European chance."
A similar demonstration is taking place in Batumi, Adjara. The UNM members held candles and placards that stated, "Do not murder another president."
UNM supporters also gathered at Bidzina Ivanishvili's residence in Shekvetili, Guria. According to them, the ex-president was "tortured on the orders of Russian President Putin."
The UNM stated on January 3 that protests in support of Mikheil Saakashvili would take place in eight different locations across Georgia on January 4 rather than the two scheduled by UNM Chairmanship candidate Levan Khabeishvili. The gathering in Tbilisi, according to the party, would be held near the Peace Bridge. The UNM highlighted that Khabeishvili supporters would be in charge of rallies in Telavi, Gori, and Rustavi.
Levan Khabeishvili previously announced that the party would join the global action organized by Mark Feygin, a Russian blogger and human rights activist, using the hashtag #SaveMisha.
On December 24, Feygin stated: "We have the plan to help Mikhail, but we must wait for the Georgian government's response. If nothing happens, we will take action. However, everyone should pitch in."