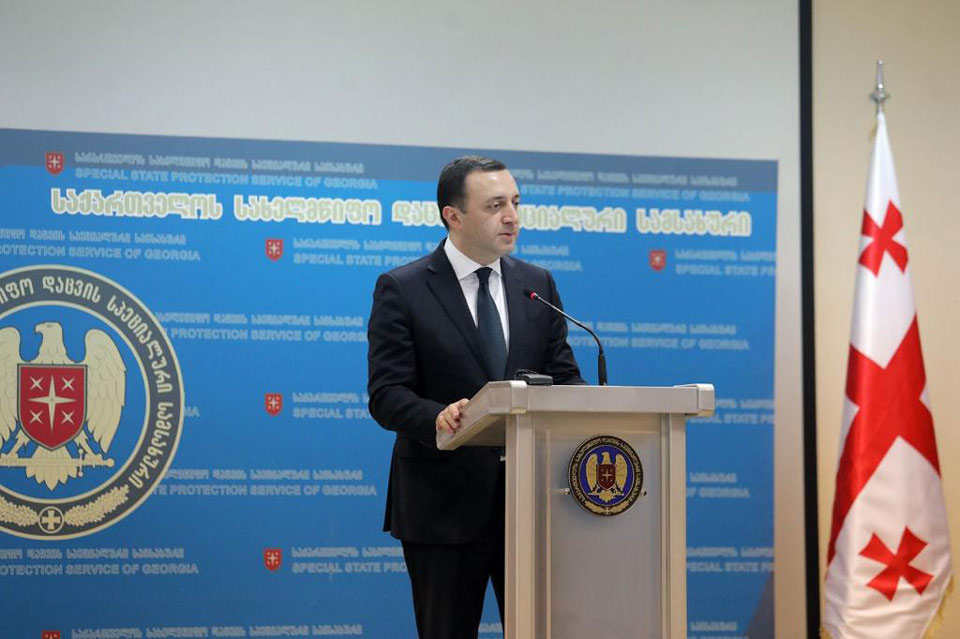 Special State Protection Service developed into a top-notch modern agency, PM says
I greet everyone and join all acting or retired employee, esteemed generals and officers, in celebrating this day, Georgian Prime Minister Irakli Garibashvili stated in his speech at today's event marking the 28th anniversary of the establishment of the Special State Protection Service.
The Head of Government thanked them for their service and dedication to their cause.
"For almost three decades you have been serving our country's security and stability. This extremely responsible mission is often related to high risks and requires professionalism alongside a dedication to the country and the cause. Over the past 28 years, you have dealt with more than one difficulty, including several terrorist acts. Together with you, I would like to honour once again the memory of your friends and colleagues who have died a hero's death on duty," the Prime Minister said.
According to PM, the Special State Protection Service has developed into a top-notch modern agency meeting Western standards. He said that the success and international recognition of the agency are confirmed by the fact that, in October 2022, the 18th Conference of the Association of Personal Protection Services (APPS) will be held in Georgia to bring together delegates from more than 50 countries.
Prime Minister also visited the service's new sports arena, dog cages, and gym. The Head of the Special State Protection Service, Anzor Chubinidze, briefed the Head of Government on the ongoing and finalized infrastructural projects at the service's learning centre.
During the event, twelve employees of the Special State Protection Service were awarded with medals for excellence in service.