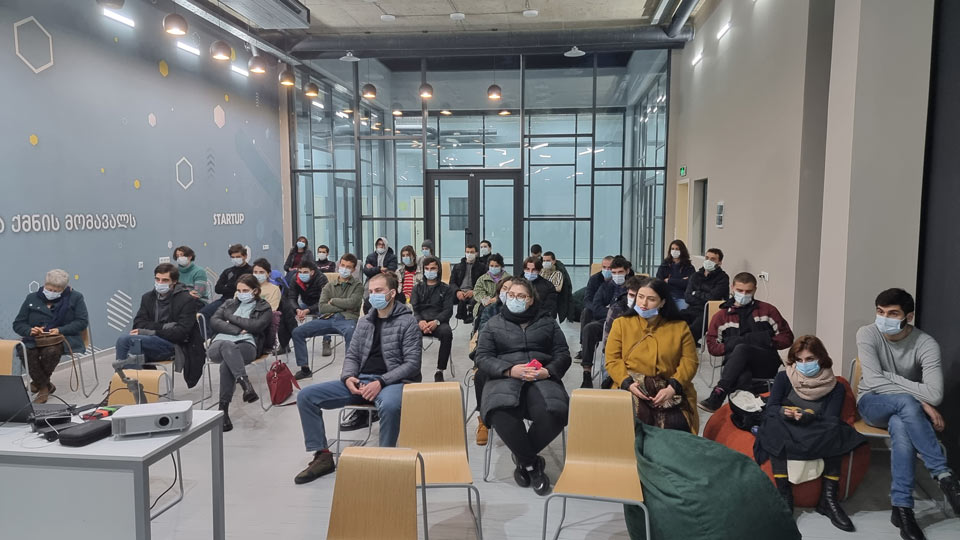 Representatives of Shark Tank Georgia GPB Project meet in Ozurgeti
Representatives of the Shark Tank Georgia Project of the Georgian Public Broadcaster (GPB) held a meeting in Ozurgeti, western Guria region. The new season will be available for TV viewers soon, while applications are accepted till February 1.
A meeting with interested and potential participants Stanley Show and Business Partner was held at Ozurgeti Technopark with the support and involvement of the Georgian Innovation and Technology Agency. Given the epidemiological situation, it was broadcast live on Facebook in other regions, which also made it available to various local centres of the Innovation Technology Agency and all interested applicants wishing to develop their business and needing funding.
Shark Pavle Mgeladze and Nika Zhgheria, a successful participant of the project and one of the founders of VIDOOFOOD, attended the meeting. They shared their best experience and interesting information with the applicants.
"There are three simple reasons why you should participate in the project Shark Tank Georgia. This is a show where you can represent yourself the way you are because it is safe media and staging a show is not a target. That is the best opportunity to test your idea and its implementation skills in a short time, face real sharks and receive good advice and desirable investment. Noteworthy is the benefit, which every participant gets, and this does not depend on whether he/she wins financing. This is their opportunity to inform society and raise awareness about their company," said GPB Director General Tinatin Berdzenishvili.
Shark Tank Georgia is a popular television mega show by Sony Pictures that GPB has been broadcasting since last November. Fourteen participants won the financing of USD 1.5 million during the first season. The project is the platform to start a business, attract investment, and it is an exciting process for the viewers to follow. The project aims to promote Georgian investment in Georgian business that is significant for small and medium-sized businesses in the post-pandemic period. Previous episodes are available for viewers on the Shark Tank Facebook page and GPB online platform.