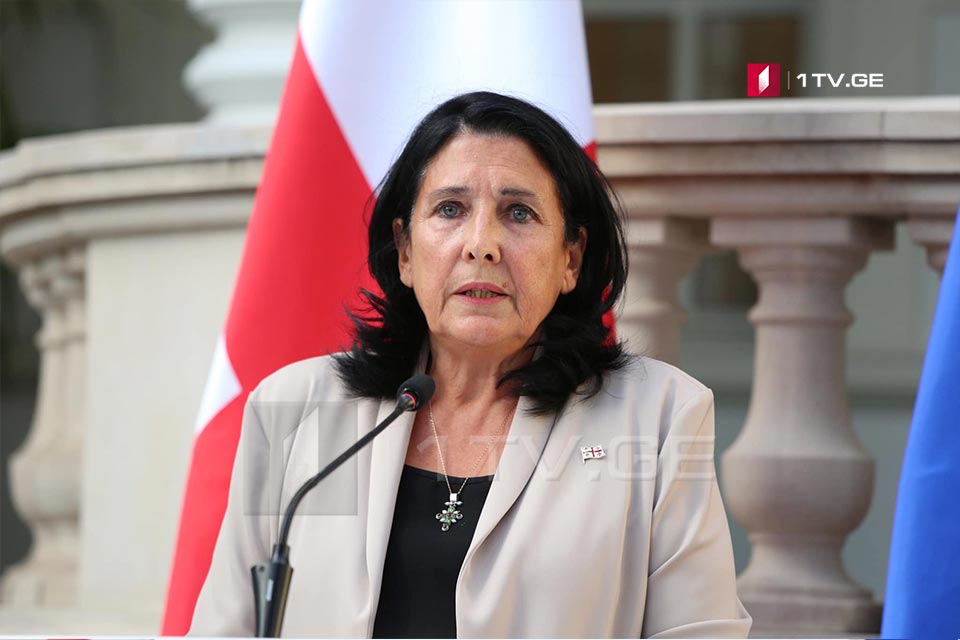 President Zourabichvili claims Georgia stands on side of peace
Georgian President Salome Zourabichvili claims Georgia stands on the side of peace.
"For that, we offered our country as a platform for dialogue and conflict de-escalation," Zourabichvili said during a joint press conference with Armenian President Armen Sarkissian.
Meeting with the Armenian President was planned long ago, but the COVID-19 pandemic and regional conflict impeded the process, Zourabichvili noted.
Georgian President informed her Armenian counterpart on pandemic-related challenges, regional security, dare humanitarian situation in the Russia-occupied regions of Georgia, illegal borderization, kidnappings, and human rights violation.
The parties also discuss regional security and recent developments in Ukraine.
"We all understand that any regional conflict affects the whole region, so peace and cooperation are non-alternative for the development of the Caucasus," Zourabichvili stressed.
The meeting also focused on bilateral relations, strengthening economic, tourism, and cultural projects.
Armenian President Armen Sarkissian arrived in Tbilisi for an official visit at the invitation of Georgian President Salome Zourabishvili earlier today.
President Sarkissian will also meet with Parliament Speaker Archil Talakvadze and Catholicos-Patriarch of All Georgia Ilia II.
President Sarkissian will visit the St. George Primate Church of the Armenian Apostolic Church in Georgia.
For the record, in the aftermath of the second Nagorno-Karabakh war 2020, Turkish President Recep Tayyip Erdogan proposed the idea of establishing a six-country regional cooperation platform. Turkey's leader imagines a platform that would bring Turkey, Russia, Azerbaijan, Iran, Georgia, and Armenia together.