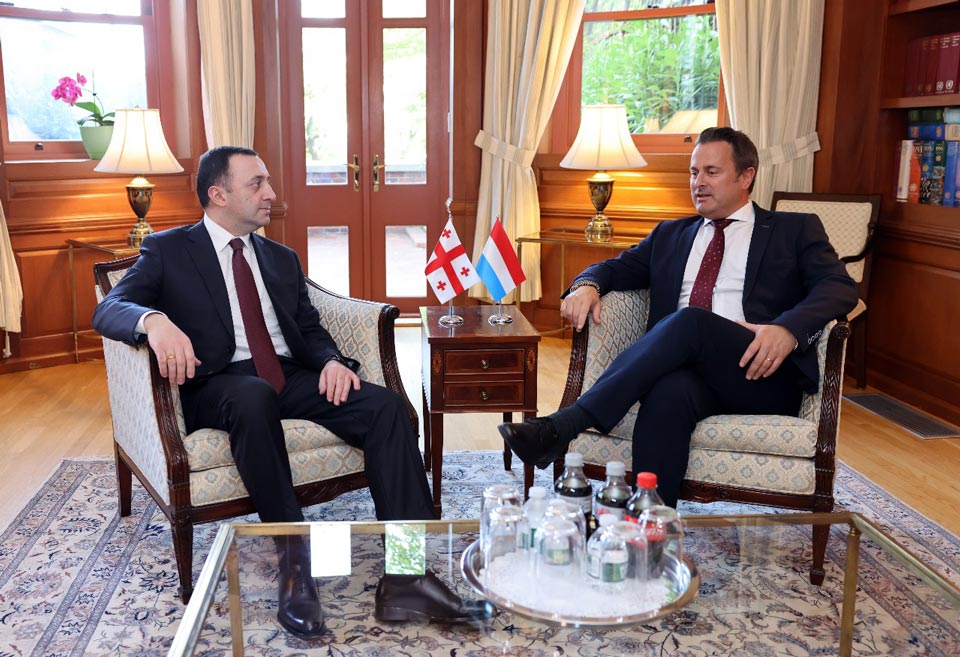 PMs of Georgia and Grand Duchy of Luxembourg meet
Irakli Garibashvili, Georgian Prime Minister met Xavier Bettel, Prime Minister of the Grand Duchy of Luxembourg.
At the meeting, which was held within the framework of the Prime Minister's visit to New York, attention was paid to the process of Georgia's integration into the European Union and the steps taken by the Government of Georgia towards this end.
Irakli Garibashvili emphasized the importance of support from Luxembourg being one of the founding members of the European Union and expressed hopes that it will maintain its political support at all stages of our country's accession to the European family.
The implementation of 12 recommendations made by the European Union to Georgia were discussed at the meeting. As the Prime Minister noted, Georgia closely cooperated with the European Union and the Venice Commission in the process of implementing the recommendations. According to him, several issues remain, which will also be addressed under the guidance of the European Union.
According to Irakli Garibashvili, Georgia deserves the status of an EU Candidate Country and at the end of the year, and the country expects a fair and merits-based decision from the EU.
The dignitaries highlighted the fruitful cooperation between Georgia and the Grand Duchy of Luxembourg in both bilateral and multilateral formats, as well as within international organizations.
According to the Head of Government of Georgia, Luxembourg has a leading position in the ranking of the world's open and transparent economy. It is a profound center for business, research, logistics and information technology development, while Georgia is interested in deepening cooperation with Luxembourg in this direction.
Irakli Garibashvili informed the Prime Minister of Luxembourg about the progress achieved by Georgia in the economic sphere.
The dignitaries also discussed the security challenges in the region and the world and the situation in the occupied territories of Georgia.
The Prime Minister of Georgia thanked the Prime Minister of the Grand Duchy of Luxembourg for the steadfast support of Georgia's territorial integrity and sovereignty.
Georgian delegation, led by Prime Minister Irakli Garibashvili, participates in the 78th session of the UN General Assembly (UNGA) in New York.