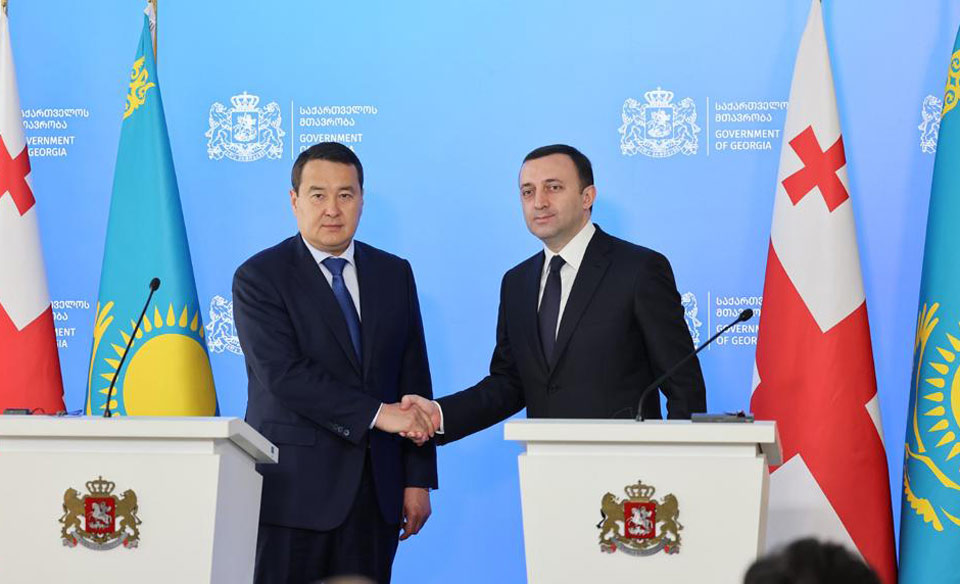 PM emphasizes Georgia-Kazakh strategic cooperation and friendship
During a joint briefing with Kazakhstan's Prime Minister Alikhan Smailov, Georgian Prime Minister Irakli Garibashvili highlighted the close strategic cooperation and friendship between Georgia and Kazakhstan, reinforced by the strong relationship between the governments.
Garibashvili warmly welcomed Prime Minister Smailov, acknowledging that this was his first official visit to Georgia. He conveyed gratitude and respect on behalf of the Georgian government and the people.
"This is the first official visit of the Prime Minister to Georgia and I wish to confirm our gratitude and respect on behalf of the government and people of Georgia.

With the Republic of Kazakhstan we enjoy a close, strategic cooperation and relationship, along with friendship, which is based on a close cooperation and interaction of both governments.

We have had very substantial discussions. We reviewed the current topics that are related to the Republic of Kazakhstan and Georgia. We also noted that we are thrilled with the trend witnessed recently. I am referring to the increased volume of export and growing trade volumes at large.I also wish to note with happiness that the number of tourists visiting Georgia from the Republic of Kazakhstan is increasing every single year. We are always delighted to see more Kazakh tourists and investors in Georgia.

The Republic of Kazakhstan has made significant investments in our country and we are cooperating in every direction.

Of course, we also discussed the pipeline of projects that are planned to further solidify the strategic cooperation existing between our countries. I wish to hereby touch upon the Middle Corridor, which has been and remains to be among the key topics of discussion between our countries. Last November we concluded a Tripartite Memorandum. We are engaged in this project together with the Republic of Azerbaijan. We – Georgia, Azerbaijan and Kazakhstan – are cooperating to remove all the bottlenecks and to make the Middle Corridor further more attractive inter alia for the countries of Central Asia, China and Asia at large, to make sure that more cargo is transported through this route – through the Middle Corridor. We have a specific Roadmap on which we already agreed with the Republic of Kazakhstan. It is a 5-year plan through 2027 and we know specifically what needs to be done by Georgia and what will be done by Azerbaijan and Kazakhstan. We are now making significant investments in modernizing our railway. This process will be completed very soon and will double the throughput of our railway. We also have other significant projects planned towards this end. We are working on the construction of a new port as well. I personally informed the Prime Minister that the Government of Georgia intends to build a new, deep-sea port in Anaklia. Works will be launched this year – in October – around this autumn. The Government of Georgia will own the majority package of 51%, while the remaining 49% will be subject to major negotiations.

We welcome the prospect of increasing the volume of energy resources transported from the Republic of Kazakhstan through the transport infrastructure and ports on the Black Sea. Of course, all these should be attractive for the Kazakh side and we will be cooperating in a more active manner with our friends towards this end.

I also wish to note that trade volumes increased significantly last year and the year-on-year increase has reached 136%, which is of course delightful. This trend has been maintained this year as well. I wish to note that trade volumes in January-April of 2023 already reached 188 MLN USD, which constitutes a 283% increase compared to the respective period of the previous year.

We also highly value the cooperation enjoyed by our countries and its intensification in the areas of arts and culture, education and science, sports and so on. We also expressed readiness to continue the cooperation further with the Republic of Kazakhstan towards sharing experience gained in implementing reforms in our countries.

Thus, I believe that we have a huge potential and both sides have full readiness to make the best use of this great potential. Once again, I wish to express gratitude to my dear friend for his visit and note that I most fondly recall my visit to the Republic of Kazakhstan last year. I expressed my gratitude to the Prime Minister for his warm welcome and hospitality. We also tried to reciprocate with our warm hospitality. I once again greet and welcome the Prime Minister. Floor is now yours, my friend," the PM added.